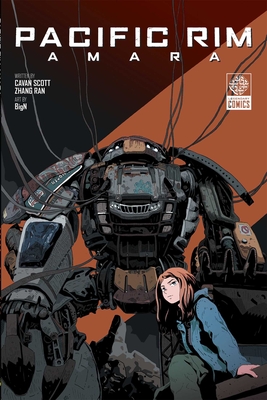 Pacific Rim (Paperback)
Amara
Legendary Comics, 9781681160603, 72pp.
Publication Date: December 3, 2019
* Individual store prices may vary.
Description


First time in print. Pacific Rim: Amara is an official prequel series to the major motion picture, Pacific Rim Uprising. This softcover edition collects the entire Pacific Rim: Amara story that was published on Webtoons. and new material for the first time.



As the Kaiju Wars rage on, Pacific Rim: Amara follows the young heroine whose life shattered when she is orphaned during a devastating monster attack. Fighting to survive as her city is destroyed, she finds shelter with a grumpy mech-inventor named Kai and his closest companion, Hannah. The trio forms an unlikely family in the aftermath of the invasion, looking out for one another and scavenging old mech parts to build their very own Jaeger, a pilotable giant robot with the power to protect Amara from the monsters that took everything from her.
About the Author
Cavan Scott is a number one best-selling author and comic writer for both adults and children.

He has written for a large number of
high-profile series including Doctor Who, Star Wars, Pacific Rim, Vikings, Penguins of Madagascar, Skylanders, Adventure Time, Pathfinder, Angry Birds, Judge Dredd, Blake's 7 and Warhammer 40,000.

His credits include novels, comic books, children's annuals and activity books, award-winning audio plays and short stories.

He is currently writing Star Wars Adventures for IDW and Pacific Rim Aftermath for Legendary, and recently wrote TEKKEN and Vikings for Titan. His second Sherlock Holmes novel, Cry of the Innocents was published by Titan Books in September 2017.

Cavan was one of the 2016 World Book Day authors, his Star Wars: Adventures in Wild Space – The Escape hitting the Number One spot in the UK book charts. In 2013, Who-ology, co-written with Mark Wright, was the first Doctor Who book to become a Sunday Times Bestseller in the UK. The popular writing team also won the 2014 Scribe Award for Best Audio for Blake's 7: The Armageddon Storm.

He has also written Minnie the Minx, The Bash Street Kids, Roger the Dodger, Gnasher and Gnipper, Bananaman, Korky the Kat, Desperate Dan and more for legendary British comics, The Beano and The Dandy.

He has appeared at such high profile literary festivals and conventions as both San Diego and New York Comic Cons, Bath Children's Literature Festival, the Cheltenham Festival, and London Super Comic Con.

Before becoming a full-time writer, Cavan was a magazine editor for Future Publishing and BBC Magazines. In 2007 he launched the award-winning Countryfile Magazine, based on the hit BBC One series. He has also written official tie-in books based on Countryfile and other BBC programmes including Planet Dinosaur.

A member of The Society of Authors, the Scattered Author Society and the Dennis the Menace Fan Club, Cavan lives near Bristol with his wife, two daughters and an inflatable Dalek named Desmond.