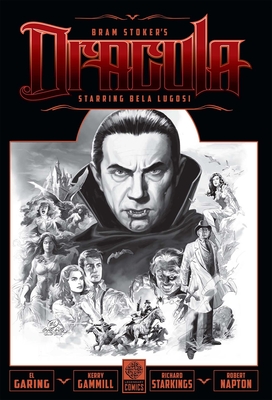 Dracula (Hardcover)
Legendary Comics, 9781681160641, 200pp.
Publication Date: September 29, 2020
Other Editions of This Title:
Digital Audiobook (6/15/2005)
Paperback (10/18/2017)
Paperback (1/29/2018)
Paperback (3/22/2018)
Paperback (12/12/2017)
Paperback (2/17/2018)
Paperback, Spanish (3/14/2018)
Paperback (9/12/2013)
Paperback (4/3/2019)
Paperback (10/11/2017)
Paperback (1/24/2018)
Paperback (3/26/2019)
* Individual store prices may vary.
Description
For the first time ever Bram Stoker's gothic masterpiece is being united with the definitive screen Dracula, Bela Lugosi, in an all new graphic novel.



In the late 19th century, Dracula, an ancient Transylvanian Vampire, moves to England to find fresh blood and spread his evil contagion. There he encounters two women, Lucy and Mina, who become the targets of his dark obsession. Aided by a group of brave men, Professor Van Helsing arrives on the scene and takes on the Vampire Prince in the ultimate battles between the forces of light and dark!


About the Author
Robert Napton is a comic editor and writer current working as SVP of Publishing at Legendary Comics. He has written hundreds of comics and worked for such companies as Image, Marvel, Del Rey/Random House, and Bandai. His comic writing credits include BATTLESTAR GALACTICA, WARLORD OF MARS, DARK WRAITH OF SHANNARA (Based on Terry Brooks' SHANNARA CHRONICLES). As an editor and publisher Robert established Bandai Manga in 2004, the first ever publishing division for Bandai USA, and released dozens of manga titles including, GUNDAM, CODE GEASS, EUREKA SEVEN, HARUHI and others. In recent years Robert joined Legendary Comics and edited such titles as GODZILLA, PACIFIC RIM, and LOST IN SPACE.