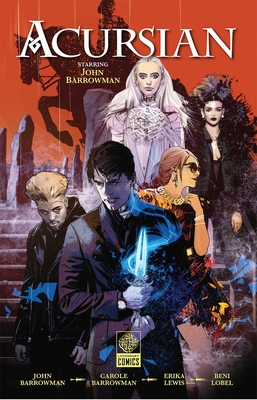 Acursian
Paperback

* Individual store prices may vary.
Description
Acursian is the first comic featuring John Barrowman, who stars in the comic as Charlie, from his many on-screen roles, including as Captain Jack Harkness on Torchwood and Doctor Who.

In addition to John Barrowman, the series features a creative team that includes Carole Barrowman, John's older sister, as well as Erika Lewis, who has previously collaborated with the Barrowman siblings as a producer on G4's "Attack of the Show!" Acursian also features art by Beni Lobel as well as designs by Tommy Lee Edwards.

Starring John Barrowman, Acursian is a time-traveling magical journey set between 1745 and present day that follows Charlie Stewart, a dislikeable lawyer whose bloodline is cursed by the Gods after Charlie's ancestor, Prince Charles Edward Stewart, makes a deal with Bregon, the god of war. The exchange quickly backfires with Bregon stealing three talismans from his sisters, the goddesses of fate and time, and a battle soon ensues. Until the talismans are returned, the three sisters can no longer control fate and time, and Charles Edward Stewart and his descendants are cursed to lose everything on their 40th birthdays
Legendary Comics, 9781681160726, 200pp.
Publication Date: December 1, 2020
About the Author
Erika Lewis was born and raised in Washington, D.C., a place filled with politicians, but also magic. You just have to know where to look for it. Her list of credits straddle the comic and novel space, including Game of Shadows from Macmillan's Tor Books, two Legendary Comics series FIREBRAND and ACURSIAN, and The 49th Key from Heavy Metal Publishing. She resides in the sunshine state of California. When she's not writing she's usually hiking, playing video games poorly, or at one of the bookstore or comic shops by her house. And always drinking coffee…

In collaboration with her brother, John Barrowman (Arrow, Torchwood, Dr. Who), Carole has written two biographies and five novels, including the acclaimed "Hollow Earth" (Simon & Schuster), a middle grade fantasy series about a brother and sister who can bring their drawings to life and animate into art. Their next novel, "Conjuror," will be released in the UK this spring. Carole and John's most recent collaboration is for DC Comics. "Arrow: The Dark Archer" explores Malcolm Merlyn's backstory. Carole is also an English professor and Director of Creative Studies in Writing at Alverno College in Milwaukee, Wisconsin, a regular contributor on WTMJ4's The Morning Blend, and writes a column and book reviews for the Milwaukee Journal Sentinel and the Minneapolis Star Tribune. She contributed stories to the Hugo award-winning anthology "Chicks Dig Time Lords" and the Hugo nominated "Queers Dig Time Lords."

John Barrowman MBE is a Scottish-American actor, singer, presenter, author, and comic book writer. In collaboration with his sister Carole, John has released two volumes of his autobiography, Anything Goes and I Am What I Am, published by Michael O'Mara Books. Anything Goes reached number 2 in the Sunday Times bestsellers' list and remained in the list for twelve weeks. A sci-fi/fantasy series of three novels for young adults, Hollow Earth, co-authored by John and Carole, was launched in 2012 by Buster Books. John and Carole were subsequently commissioned by Head of Zeus Publishing to write a further three novels featuring the Animare twins, Matt and Em Calder. The first of these, Conjuror, was published on 5 May 2016 and quickly reached number 7 in the YA book charts. They have also collaborated on a Torchwood novel, Exodus Code, a Torchwood comic book series featuring Captain Jack, and a Dark Archer comic series about John's Arrow character, Malcolm Merlyn. John and Carole's latest release is a graphic novel, Acursian, available via Webtoons.