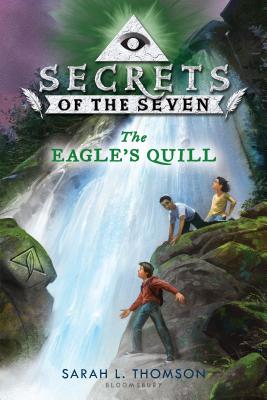 The Eagle's Quill (Secrets of the Seven) (Paperback)
Bloomsbury USA Childrens, 9781681190624, 240pp.
Publication Date: April 17, 2018
* Individual store prices may vary.
Description
Middle school geniuses Sam, Martina, and Theo head to Glacier National Park to find the second of seven artifacts--keys that unlock a secret weapon--left by the country's Founding Fathers. The clues lead them to look for Thomas Jefferson's Eagle's Quill at a Montana ranch. But dangerous Gideon Arnold, descendant of the infamous Benedict Arnold, is hot on their trail. He takes their chaperone and the ranch owners hostage until the kids deliver the quill. Can Sam, Martina, and Theo, with the help of rancher girl Abby, find Jefferson's artifact before it's too late? They enter the wilderness to solve riddles and escape traps that protect the quill . . . but if they find it, can they keep it away from Arnold and save everyone?
In this fast-paced adventure full of action and interactive puzzles, the kids and readers must use their wits to save our nation by uncovering its greatest secrets.
About the Author
Sarah L. Thomson is an award-winning author who has published more than thirty books for young readers, including the Secrets of the Seven series, Deadly Flowers, and Dragon's Egg. Sarah lives in Portland, Maine, with her daughter and her two cats. Her daughter helps with inspiration, and her cats help by lying on the piece of paper she needs most.
sarahlthomson.com
secretsoftheseven.com