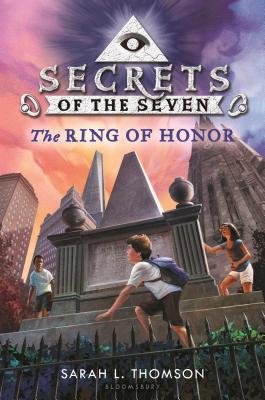 The Ring of Honor (Secrets of the Seven) (Paperback)
Bloomsbury Children's Books, 9781681190631, 240pp.
Publication Date: April 2, 2029
Other Editions of This Title:
Hardcover (4/17/2018)
* Individual store prices may vary.
Description
For middle grade fans of National Treasure and Indiana Jones, this smart, action-packed series continues with more enticing historical mystery and interactive puzzles. Like Alexander Hamilton, this one is non-stop!
Middle school geniuses Sam, Martina, and Theo arrive in New York City on a mission. They're after the third key left behind by the Founding Fathers. They've escaped the forests of Glacier National Park with the second key, but at great cost--Evangeline, their chaperone and friend, was captured by the nefarious and dangerous Gideon Arnold.
Now they have to navigate New York City following clues related to Alexander Hamilton, solve (and survive) the puzzles and traps they encounter along the way, and find the third key before Gideon Arnold does. But the stakes have never been higher, and they might not all make it out alive . . .
Another exciting adventure filled with clues, puzzles, and action that dives into the fascinating history behind the Founding Fathers and our country's natural wonders.
About the Author
Sarah L. Thomson is an award-winning author who has published more than thirty books for young readers, including the Secrets of the Seven series, Deadly Flowers, and Dragon's Egg. Sarah lives in Portland, Maine, with her daughter and her two cats. Her daughter helps with inspiration, and her cats help by lying on the piece of paper she needs most.
sarahlthomson.com
secretsoftheseven.com
Praise For The Ring of Honor (Secrets of the Seven)…
"Thomson achieves a good balance of history, mystery, comedy, and narrow escapes, while driving the continuing narrative forward." —Booklist
"Fans of the National Treasure franchise and Indiana Jones will relish this adventure centered on historical artifacts. Chock full of trivia, puzzles, and nail-biting adventure." —Kirkus Reviews on THE EAGLE'S QUILL
"Another page-turner of a quest . . . A fast-paced choice for chapter-book readers who prefer adventure stories with real-world settings." —Booklist on THE EAGLE'S QUILL
"This story has the feeling of a computer game that relies on knowledge of American history to advance . . . will appeal to history buffs, puzzle fans, and reluctant readers." —School Library Journal on THE EUREKA KEY
"In addition to learning bits of American history, readers will be challenged by the codes and riveted by Thomson's account of the kids' episodic, death-defying journey. A fast-paced quest narrative with plenty of action." —Booklist on THE EUREKA KEY
"Nonstop action is punctuated by a series of puzzles that require knowledge of trivia, strength, and creative thinking to solve." —Kirkus Reviews on THE EUREKA KEY