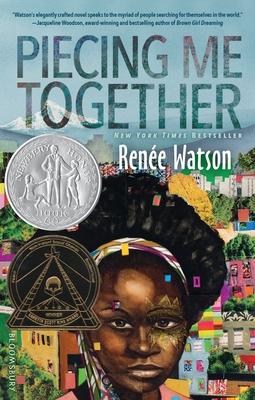 Piecing Me Together
Hardcover

* Individual store prices may vary.
Other Editions of This Title:
Paperback (6/5/2018)
Description
Newbery Honor and Coretta Scott King Author Award Winner
New York Times bestseller
"Timely and timeless." --Jacqueline Woodson
"Important and deeply moving." --John Green

Acclaimed author Renee Watson offers a powerful story about a girl striving for success in a world that too often seems like it's trying to break her.

Jade believes she must get out of her poor neighborhood if she's ever going to succeed. Her mother tells her to take advantage of every opportunity that comes her way. And Jade has: every day she rides the bus away from her friends and to the private school where she feels like an outsider, but where she has plenty of opportunities. But some opportunities she doesn't really welcome, like an invitation to join Women to Women, a mentorship program for "at-risk" girls. Just because her mentor is black and graduated from the same high school doesn't mean she understands where Jade is coming from. She's tired of being singled out as someone who needs help, someone people want to fix. Jade wants to speak, to create, to express her joys and sorrows, her pain and her hope. Maybe there are some things she could show other women about understanding the world and finding ways to be real, to make a difference.

NPR's Best Books of 2017
A 2017 New York Public Library Best Teen Book of the Year
Chicago Public Library's Best Books of 2017
A School Library Journal Best Book of 2017
Kirkus Reviews' Best Teen Books of 2017
2018 Josette Frank Award Winner
Praise For Piecing Me Together…
"Watson's elegantly crafted novel speaks to the myriad of people who find themselves searching for themselves in the world. Timely and timeless, Piecing Me Together is a book about the ways young people deal with the hardships and heartbreak of everyday living while remaining whole and true to themselves. There is a little bit of Jade in all of us. As she and the rest of Watson's characters jumped off the page and into my heart, I found myself again and again, remembering this." - Jacqueline Woodson, National Book Award-winning author of BROWN GIRL DREAMING

"Watson, with rhythm and style, somehow gets at the toxicity of sympathy, the unquenchable thirst of fear, and the life-changing power of voice and opportunity, all wrapped up in Jade--the coolest young lady in the world. Or at least, in Portland, Oregon. Simply, Piecing Me Together is a book you'll want to hug!" - Jason Reynolds, New York Times bestselling and award-winning coauthor of ALL AMERICAN BOYS

"An important and deeply moving novel. Highly recommended." - John Green, New York Times bestselling and award-winning author of THE FAULT IN OUR STARS

"A nuanced story about girls navigating the landmines of others' good intentions, Piecing Me Together will make readers wrestle with every assumption they have about race, economic class, and so-called at-risk kids. An honest look at how girls stitch together their talents to find their voice and power. Renee Watson is a top-rate storyteller about what impacts young women today." - Meg Medina, award-winning author of BURN BABY BURN

"Jade's narrative voice offers compelling reflections on the complexities of race and gender, class and privilege, and fear and courage, while conveying the conflicted emotions of an ambitious, loyal girl. Teeming with compassion and insight, Watson's story trumpets the power of artistic expression to re-envision and change the world." - starred review, Publishers Weekly

"Through Jade's insightful and fresh narration, Watson presents a powerful story that challenges stereotypes about girls with 'coal skin and hula-hoop hips' who must contend with the realities of racial profiling and police brutality. . . . A timely, nuanced, and unforgettable story about the power of art, community, and friendship." - starred review, Kirkus Reviews

"This unique and thought-provoking title offers a nuanced meditation on race, privilege, and intersectionality." - starred review, School Library Journal

"A thoughtful testament to the value of growth and of work, of speaking up and of listening, that will resonate with many readers engaged in 'discovering what we are really capable of.'" - starred review, BCCB

"A balancing act between class, race, and social dynamics, with Watson constantly undercutting stereotypes and showing no fear in portraying virtues along with vices. The book's defiance of a single-issue lens will surely inspire discussion and consideration." - Booklist

"Questions of race, self-acceptance, and self-worth are the focus of this book and will give young women a chance to realize that they are worthwhile just being themselves. . . . all students . . . would benefit from reading this book." - School Library Connection

"Watson's story explores a number of important ideas: the challenges and rewards of interracial friendships, the realities of racial stereotyping, and the expression of ideas and emotions through art . . . Jade's is an important voice." - VOYA

"Watson takes Jade on her own journey of self-discovery, one that readers will avidly follow. With each chapter preceded by a Spanish word or phrase, this involving, thought-provoking novel is a multifaceted and clear-eyed exploration into the intersections of race, class, and gender." - The Horn Book Magazine

"Writing with the artfulness and insights of African American teen-lit pioneers Rita Williams-Garcia, Angela Johnson, and Jacqueline Woodson, Watson shows Maya exploring concerns rarely made this accessible . . . essential for all collections." - starred review, Booklist on THIS SIDE OF HOME

"Watson paints a thoughtful, powerful picture of the complications of contemporary African-American experience, especially when it rubs up against the hipster middle class." - starred review, BCCB on THIS SIDE OF HOME

"An intriguing look at how families and young people cope with community and personal change. . . . Here's hoping Watson's teen debut will be followed by many more." - Kirkus Reviews on THIS SIDE OF HOME

"Watson delivers a well-rounded, delicate, and important story without sacrificing any heart. An engrossing and timely coming-of-age story." - SLJ on THIS SIDE OF HOME
Bloomsbury USA Childrens, 9781681191058, 272pp.
Publication Date: February 14, 2017
About the Author
Renée Watson is the New York Times bestselling, Newbery Honor Book, and Coretta Scott King Award-winning author of Piecing Me Together, This Side of Home, What Momma Left Me, and Betty Before X, co-written with Ilyasah Shabazz, as well as two acclaimed picture books: A Place Where Hurricanes Happen and Harlem's Little Blackbird, which was nominated for an NAACP Image Award. She is the founder of I, Too, Arts Collective, a nonprofit committed to nurturing underrepresented voices in the creative arts, and currently lives in New York City.
www.reneewatson.net; @reneewauthor
Coverage from NPR