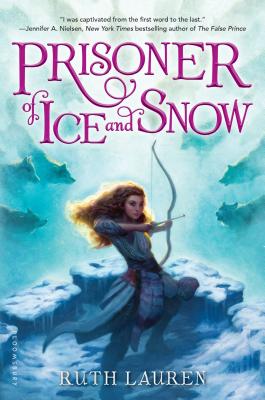 Prisoner of Ice and Snow (Hardcover)
Bloomsbury USA Childrens, 9781681191317, 288pp.
Publication Date: April 4, 2017
Other Editions of This Title:
Paperback (2/13/2018)
MP3 CD (7/11/2017)
* Individual store prices may vary.
Description
She'll do anything to break her sister out of prison--even get arrested on purpose.
When thirteen-year-old Valor is sent to jail, she couldn't be happier. Demidova's prison for criminal children is exactly where she wants to be. Valor's twin sister, Sasha, is serving a life sentence for stealing from the royal family, and Valor is going to help her escape . . . from the inside.
Never mind that no one has escaped the prison in centuries. Valor has a master plan and resources most people could only dream about. But she didn't count on having to outsmart both the guards and her fellow prisoners. If Valor's plan is to succeed, she'll need to make some unlikely allies. And if the plan fails, she and Sasha could end up with fates worse than prison.
This exciting middle-grade debut effortlessly melds an unforgettable protagonist, a breathless plot, and stunning world-building--and is impossible to put down.
"Prisoner of Ice and Snow is an exciting, fast-paced story, full of twists and turns. Valor is an engaging heroine who never loses courage, even when everything goes wrong. I was captivated from the first word to the last. This is a story readers will love again and again!" --Jennifer A. Nielsen, New York Times bestselling author of The False Prince
"Action-packed and full of heart, Prisoner of Ice and Snow is a riveting tale of betrayal, intrigue, and the love between two sisters. Valor's determination and the risks she takes to save her beloved twin will have you rooting for her from the very first page." --Aimée Carter, author of Simon Thorn and the Wolf's Den
About the Author
Ruth Lauren lives in a Victorian house in the West Midlands, England with family and a lot of cats. She likes chocolate, walking in the woods, cheese, orchids, going to the movies, and reading as many books as she can. She's been a teacher and worked in many different offices, but she likes writing best. Prisoner of Ice and Snow is her debut novel.
www.ruthlauren.com
@Ruth__Lauren
Praise For Prisoner of Ice and Snow…
"Anyone who likes adventure, survival stories, folktales, or novels with strong female protagonists will not be able to put this down." - starred review, School Library Journal
"A fast-paced adventure . . . Palace intrigue and diplomatic double-crosses play their part in the thematic arc, which sets up nicely for a sequel." - Booklist
"Readers will . . . root for the defiant Valor . . . and they'll cheer her eventual success." - BCCB
"Valor is both true to her name and resourceful . . . A page-turner with an intrepid protagonist." - Kirkus Reviews
"Full of satisfying twists and turns, not to mention a unique matriarchal society, Valor's tale will have you on the edge of your seat from start to finish." - Molly Olivo, Barstons Child's Play (Washington, DC)
"Ruth Lauren builds her story with skill and exquisite detail. The prose sings out and draws readers in with an intriguing plot and characters bursting with conviction. A terrific middle grade read." - Book Riot
"Prisoner of Ice and Snow is an exciting, fast-paced story, full of twists and turns. Valor is an engaging heroine who never loses courage, even when everything goes wrong. I was captivated from the first word to the last. This is a story readers will love again and again!" - Jennifer A. Nielsen, NEW YORK TIMES bestselling author of THE FALSE PRINCE
"Action-packed and full of heart, Prisoner of Ice and Snow is a riveting tale of betrayal, intrigue, and the love between two sisters. Valor's determination and the risks she takes to save her beloved twin will have you rooting for her from the very first page." - Aimée Carter, author of SIMON THORN AND THE WOLF'S DEN