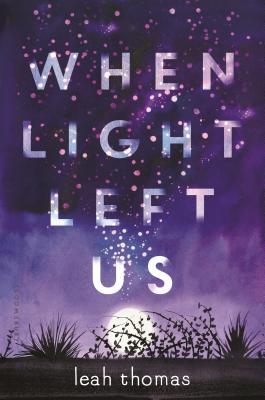 When Light Left Us (Hardcover)
Bloomsbury USA Childrens, 9781681191812, 400pp.
Publication Date: February 13, 2018
Other Editions of This Title:
Paperback (2/12/2019)
* Individual store prices may vary.
Description
When the Vasquez siblings' father left, it seemed nothing could remedy the absence in their lives . . . until a shimmering figure named Luz appeared in the canyon behind their house.
Luz filled the void. He shot hoops with seventeen-year-old Hank's hands. He showed fourteen-year-old Ana cinematic beauty behind her eyelids. He spoke kindly to eight-year-old Milo. But then Luz left, too, and he took something from each of them. As a new school year begins, Hank, Ana, and Milo must carry on as if an alien presence never altered them. But how can they ever feel close to other people again when Luz changed everything about how they see the world and themselves?
In an imaginative and heartfelt exploration of human--and non-human--nature, Leah Thomas champions the unyielding bonds between family and true friends.
Because You'll Never Meet Me
A William C. Morris YA Debut Award finalist
About the Author
Leah Thomas frequently loses battles of wits against her students and her stories. When she's not huddled in cafes, she's usually at home pricking her fingers in service of cosplay. Leah lives in San Diego, California and is the author of Nowhere Near You and the William C. Morris YA Debut Award finalist, Because You'll Never Meet Me.
Praise For When Light Left Us…
"Metaphor and figurative language make the prose here beautiful to read. . . . The poignant, strange, and poetic novel is a nuanced exploration of human nature." - starred review, Booklist
"A compelling, character-driven, and imaginative novel. . . What makes it stand out is Thomas's talent of bringing intimacy, thoughtfulness, and a sense of wonder to her writing. ­For fans of Patrick Ness and Lauren Oliver, this is a must buy." - starred Review, School Library Journal
"Thomas' elegant and deeply metaphorical prose blends nicely with the blend of magical realism and science fiction, and the arid, stripped-bare landscape of New Mexico's deserts makes an effective backdrop." - BCCB
"Readers will be captivated by the mystery and meaning in this eerie exploration of loss and love, hurting and healing, family and friends, and of letting go and reconnection." - School Library Connection
"Thomas explores themes of forgiveness, family, friendship, and identity. . . . This pensive sci-fi novel straddles many worlds without quite fitting in any, not unlike the endearing square-peg characters at its heart." - Kirkus Reviews
"Unforgettable and distinct voices . . . A fantastic novel that will be especially resonant for readers who struggle with being or feeling outside of 'normal.'" - starred review, Booklist on NOWHERE NEAR YOU
"Part mad science, part convincing portrayal of the volatile, resilient nature of friendship and grief--and that, as Ollie says, is not science fiction." - Kirkus Reviews on NOWHERE NEAR YOU
"The pacing is impeccable, as letters move from sunniness (Oliver) and bemused distance (Moritz) to both writers exploring their darkest fears, experiences, and worries for their futures." - starred review, BCCB on BECAUSE YOU'LL NEVER MEET ME
"A witty, unusual take on friendship and parlaying weakness into power." - Kirkus Reviews on BECAUSE YOU'LL NEVER MEET ME
"Ollie and Moritz are memorable characters with engaging and often humorous voices. . . A quirky, almost whimsical feel even as Thomas grounds it in heartfelt and often painful emotion." - SLJ on BECAUSE YOU'LL NEVER MEET ME
"The two may be eccentric outcasts, but their conflicts, heartbreak, and eventual bond form a relatable and engaging narrative." - Publishers Weekly on BECAUSE YOU'LL NEVER MEET ME
"It's the distinct, deeply memorable voices of Ollie and Moritz that make this novel an affecting page-turner." - Horn Book Magazine on BECAUSE YOU'LL NEVER MEET ME