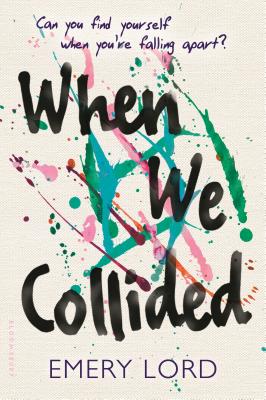 When We Collided
Paperback

* Individual store prices may vary.
Other Editions of This Title:
Hardcover (4/5/2016)
MP3 CD (9/27/2016)
Description
"It is a book I wish could have written, but am so much better for having read." --Julie Murphy, #1 New York Times bestselling author of Dumplin'

A thought-provoking, emotionally-compelling romance featuring a girl, a boy, and the love that has the power to save or destroy them.

Seventeen year-old Jonah Daniels has lived in Verona Cove, California, his whole life, and only one thing has ever changed: his father used to be alive, and now he is not. With a mother lost in a deep bout of depression, Jonah and his five siblings struggle to keep up their home and the restaurant their dad left behind. But at the start of summer, a second change rolls in: Vivi Alexander, the new girl in town.

Vivi is in love with life. Charming and unfiltered, she refuses to be held down by the medicine shes told should make her feel better. After meeting Jonah, she slides into the Daniels household seamlessly, winning over each sibling with her imagination and gameness. But its not long before Vivis zest for life begins to falter. Soon her adventurousness becomes all-out danger-seeking.

Through each high and low, Vivi and Jonahs love is put to the test . . . but what happens when love simply isnt enough?
Praise For When We Collided…
"This is more than a love story. When We Collided carefully yet effortlessly puts mental illness in conversation with the beauty and struggle of adolescence. It is a book I wish could have written, but am so much better for having read." Julie Murphy, #1 New York Times bestselling author of DUMPLIN' and SIDE EFFECTS MAY VARY

"Searingly honest, gut-wrenchingly authentic, and deeply romantic, When We Collided is a gift of a novel. It tackles tough topics with nuance, and will make readers both laugh and cry, sometimes within the span of a page." Jasmine Warga, author of MY HEART AND OTHER BLACK HOLES

"A five-star must-read romance for older teens (and up) that will challenge readers toward a better understanding of a too-often marginalized and stigmatized segment of the population, When We Collided is an important book not only for this generation of teens, but those whove come before . . . and those who will come after." USA Today

"Filled with raw, descriptive truths . . . a powerful book for reader engagement . . . An absolute tearjerker romance with a powerful message about weightier topics of grief and mental illness." starred review, School Library Journal

"Nothing short of heartbreaking. These are definitely two teens worth rooting for in a tale thats several clicks above the usual frothy summer romance fare." BCCB

"Lord sucks readers into the fully realized world of two teenagers and their messy, honest families. As much about the fragility of the human experience as it is about mental illness, this offers a refreshing perspective on a spectrum of mental health disorders. This love story veers away from tragedy, instead firmly entrenching itself in hope and possibility." Booklist

"Vivi and Jonah's story will hit you deep in a book that shows what it means not only to be a person inflicted with mental illness, but to be the people that love them. In a word, fantastic!" Andi of Andis ABCs

"Fans of Jandy Nelson and Rainbow Rowell will fall in love with this poetic story of two damaged kids." Daria Plumb, 2015 President of the Assembly on Literature for Adolescents (ALAN) and secondary English Language Arts teacher

"There is an honest portrayal of how life can be jagged, with rough corners and uneven edges. But if you take a closer look, there's a beauty to these misshapen moments, outlined with hope." Blogger Ginger Phillips at GReadsBooks!

"I can't shake Vivi, her mistakes and her growth, the way she changes, the way she loves, and I don't want to. She's a YA heroine who will matter so much to teens." Angie Manfredi, Los Alamos County Library

"Emery weaves an emotional tale of two people who are essentially flawed, but so very human, navigating a relationship. She truly has a feel for the seventeen-year-old within all of us girls." Cori Smith, Joseph-Beth Booksellers

"It's romance and excitement and nervousness and heartbreak and sadness. . . . The teens at my library will eat this up!" Maggie Melson, Children's/Teen Librarian, St. Charles City-County Library District

"What happens when an irrepressible spirit meets a burdened teen? Magic, thats what. Emery Lord knows how to craft a romance." Michael Fleming, Librarian, Pacific Cascade Middle School

"A fabulously entertaining story of friendship, healing, and love. Filled with laughter, heart, and a side of sass, this rock star debut will have you cheering for an encore!" Elizabeth Eulberg, author of BETTER OFF FRIENDS, on OPEN ROAD SUMMER
Bloomsbury USA Childrens, 9781681192031, 368pp.
Publication Date: May 16, 2017
About the Author
Emery Lord is the author of Open Road Summer, The Start of Me and You, and When We Collided. She lives in a pink row house in Cincinnati, with a husband, two rescue dogs, and a closet full of impractical shoes.
www.emerylord.com
Twitter: @emerylord