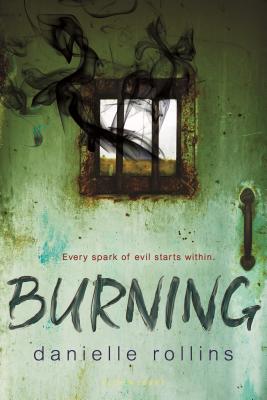 Burning (Paperback)
Bloomsbury USA Childrens, 9781681192055, 368pp.
Publication Date: June 6, 2017
* Individual store prices may vary.
Description
Tucked away, deep in the woods, Brunesfield Correctional Facility's cold walls and empty hallways keep dangerous girls away from the world . . . girls like Angela Davis, whose fate was determined by one bad decision. After a few years in juvie, Angela is finally close to her release, but everything changes the day a new warden with dark plans takes over. Angela knows evil when she sees it, and as strange disappearances and frightening incidents happen more and more frequently, it becomes clear that Brunesfield could be the end of them. Angela and her friends must find a way to get out, but how can they save themselves from very place keeping them locked away?
From the author of The Merciless comes an atmospheric thriller rich with secrets and conspiracies that will have readers on the edge of their seats.
About the Author
Danielle Rollins has won numerous awards for her fiction and non-fiction, and earned a 2009 Pushcart Prize nomination for her short story "Drive." She lives in Brooklyn, New York, and spends far too much money on vintage furniture and leather boots.
www.daniellerollins.com
@dvegabooks
Praise For Burning…
"Burning is an engaging, fast-paced thriller with a science-fiction twist . . . A blend of Orange Is the New Black, X-Files, and X-Men, Burning has great teen appeal and is highly recommended." - VOYA
"Everything is creepier when set inside a broken-down institution, and Rollins plays this up, mixing elements of simmering hostility, paranormal abilities, and questionable authority figures all in a confined and unlikable place. She leavens it with small dashes of innocence, friendship, and family love, so that readers come to care about the characters in this suspenseful tale. Give it to fans of Joe Ducie's The Rig (2015), or consider pairing it with Stephen King's film Firestarter for a book and a movie program." - Booklist
"The story of powerless girls shaping their own power is the heart of this novel, and readers who enjoyed Suma's The Walls around Us (BCCB 6/15) will find similar darkness and thrill here." - BCCB
"Students will appreciate the diverse characters, the interesting setting, and the mysterious fantasy elements. This is a fast-paced read that will be a hit where Walter Dean Myers' prison fiction is popular. Recommended." - School Library Connection
"Its strength lies in the personal challenges faced by its teenage protagonist awaiting parole." - School Library Journal
"Stephen King's Firestarter meets Walter Dean Myers' Monster. . . . With its subtle yet timely commentary on police brutality, interracial dating, and LGBT rights, the novel addresses contemporary issues without didacticism. A wildly fulfilling and frightening read." - starred review, Kirkus Reviews
"Burning is Firestarter for the next generation! Vivid, suspenseful, and tautly-wound, this book reads like a love letter to the modern thriller genre. Teens will relate to the accessible, well-drawn characters and tight pacing." - Micol Ostow, author of AMITY and THE DEVIL AND WINNIE FLYNN