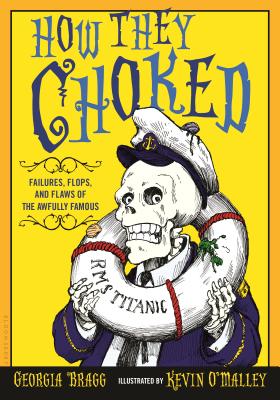 How They Choked (Paperback)
Failures, Flops, and Flaws of the Awfully Famous
Bloomsbury USA Childrens, 9781681192161, 208pp.
Publication Date: June 7, 2016
Other Editions of This Title:
Digital Audiobook (7/17/2014)
Library Binding (5/6/2014)
Hardcover (5/6/2014)
* Individual store prices may vary.
Description
The team behind the bestselling How They Croaked shines a light on the darker sides of history's most famous failures, perfect for reluctant readers!
Everyone makes mistakes. Sometimes, epic failures even lead to super successes . . . sometimes they become deep dark secrets. But remember--to fail is human, to laugh about our shortcomings divine. From Montezuma II's mistaking a conqueror for a god to Isaac Newton turning from science to alchemy to J. Bruce Ismay's jumping the lifeboat line on the Titanic, How They Choked knocks fourteen famous achievers off their pedestals to reveal the human side of history.
Successful "failures" include: Marco Polo, Queen Isabella of Spain, Montezuma II, Ferdinand Magellan, Anne Boleyn, Isaac Newton, Benedict Arnold, Susan B. Anthony, George Armstrong Custer, Thomas Alva Edison, Vincent van Gogh, J. Bruce Ismay, "Shoeless Joe" Jackson, Amelia M. Earhart
About the Author
Georgia Bragg is the author of Matisse on the Loose, a middle-grade novel. She lives in Los Angeles with her husband, two children, and two cats. www.georgiabragg.com

KEVIN O'MALLEY is the co-author and illustrator of the popular Miss Malarkey series as well as the award-winning Once Upon a Cool Motorcycle Dude and the national bestseller Gimme Cracked Corn and I Will Share. He lives in Maryland. www.booksbyomalley.com
Praise For How They Choked: Failures, Flops, and Flaws of the Awfully Famous…
"An insightful, informative narrative explaining how these individuals earned a place in history, including both their accomplishments and embarrassing and sometimes-tragic failures . . . Readers will be entertained and fascinated by the flawed humanity depicted within." —Kirkus Reviews
"Written in a chatty style, full of wit and laugh-out-loud moments, this charmingly irreverent delivery of history is not only entertaining but packed full of lessons to be learned." —School Library Journal
"The snarkily entertaining narratives are illustrated with caricatures of each subject. For better or worse, subjects are rarely as one-dimensional as most biographies paint them, and this book proves that nobody is perfect." —Booklist
"A delightfully snarky look at the remarkable mistakes of a few of history's famous figures . . . If you have not already added How They Croaked to your collection, buy both it and How They Choked immediately. Read it yourself, put it on display--it will get passed around with (disgust) delight." —VOYA
"Offers caustically humorous insights into history . . . Irresistible entertainment (and solid information) for readers." —Publishers Weekly
"A delightfully informative, humorous, and honest look at some of history's well-known characters." —Library Media Connection