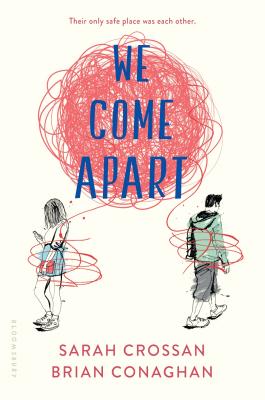 We Come Apart (Hardcover)
Bloomsbury USA Childrens, 9781681192758, 336pp.
Publication Date: June 13, 2017
Other Editions of This Title:
Paperback (5/5/2020)
MP3 CD (7/4/2017)
* Individual store prices may vary.
Description
Authors Brian Conaghan and Sarah Crossan have joined forces to tell the story of Nicu and Jess, two troubled teens whose paths cross in the unlikeliest of places.
Nicu has emigrated from Romania and is struggling to find his place in his new home. Meanwhile, Jess's home life is overshadowed by violence. When Nicu and Jess meet, what starts out as friendship slowly blossoms into romance as the two bond over their painful pasts and their hope and dreams of a better future. But will they be able to save each other, let alone themselves?
This illuminating story told in dual points of view through vibrant verse will stay with readers long after they've finished.
Acclaim for Brian Conaghan
Shortlisted for the 2015 Carnegie Award, When Mr. Dog Bites
Shortlisted for the CBI Book of the Year Award, When Mr. Dog Bites
Acclaim for Sarah Crossan
Winner of the 2016 Carnegie Award, One
Winner of the 2016 Bookseller's prize for YA fiction, One
Winner of the 2016 CBI Book of the Year, One
Shortlisted for the 2015 Carnegie Award, Apple and Rain
Shortlisted for the 2013 Carnegie Award, The Weight of Water
About the Author
Sarah Crossan is originally from Dublin. She graduated with a degree in philosophy and literature before training as an English and drama teacher at Cambridge University and has been working to promote creative writing in schools since. She taught English at a small private school near New York until she became a full time writer. She completed her Masters in creative writing at the University of Warwick in 2003 and in 2010 received an Edward Albee Fellowship for writing. Sarah lives in Hertfordshire with her husband and their daughter.
Brian Conaghan was born in 1971. He was raised in the Scottish town of Coatbridge but now lives and works as a teacher in Dublin. He is the author of The Boy Who Made It Rain and has a Master of Letters in Creative Writing from the University of Glasgow. Over the years Brian has made his dosh as a painter and decorator, a barman, a DJ, an actor, a teacher and now a writer. He currently lives in Dublin with two beauties who hinder his writing: his wife Orla and daughter Rosie.
@BrianConaghan
Praise For We Come Apart…
"This crushingly honest story effectively confronts issues of racism, abuse, and bullying, while admitting that often there's no easy answers to misery." - Booklist
"This contemporary star-crossed love affair is convincing and moving--and also a heartbreakingly timely portrayal of discrimination and bullying in Brexit-era London." - The Horn Book Magazine
"Told in verse through alternating viewpoints, this is a powerful novel about how friendship and love are sometimes not enough to ensure a happy-ever-after ending . . . A fast-paced and memorable story that will resonate with teens." - School Library Journal
"An uncompromising look at the effects of Tourette's, autism, and Oppositional Defiant Disorder on those who have them and their friends and family." - Publishers Weekly on WHEN MR. DOG BITES
"An unusual coming-of-age tale that is thoroughly engaging." - VOYA on WHEN MR. DOG BITES
"Crossan's ear is flawless in capturing the cries of a young girl's heart." - BCCB on APPLE AND RAIN
"[The] story is involving, and Apple and Rain are engaging, sympathetic characters. This one is for readers who dote on happy endings." - Booklist on APPLE AND RAIN
"Crossan's verse packs a punch as she examines the power that difference -- but also determination -- can wield." - starred review, Publishers Weekly on THE WEIGHT OF WATER
"A powerful coming-of-age novel." - Booklist on THE WEIGHT OF WATER
or
Not Currently Available for Direct Purchase