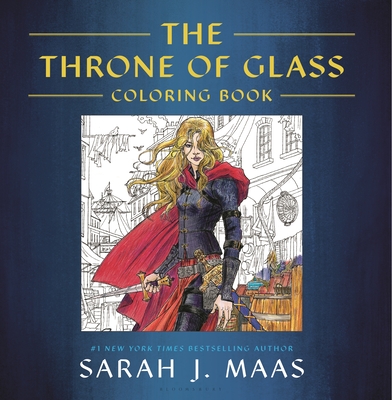 The Throne of Glass Coloring Book (Paperback)
Bloomsbury USA Childrens, 9781681193519, 96pp.
Publication Date: September 6, 2016
* Individual store prices may vary.
Description
Enter the world of Throne of Glass
Experience the vivid imagery of Sarah J. Maas's expansive world in her breathtaking New York Times bestselling Throne of Glass saga. Celaena on the rooftops of Rifthold, Chaol in the gardens of the glass castle, Manon riding her wyvern through the Crossing, and many other favorite moments, characters, and objects from the vibrantly detailed realm of Throne of Glass come to life. With stunning original black-and-white drawings, The Throne of Glass Coloring Book is a must-have companion for any reader looking to be swept up in the adventure of a lifetime.
Awards for the Throne of Glass Series
Queen of Shadows
A Good Reads Choice Award winner for Best Young Adult Fantasy/Sci-Fi for 2015
Heir of Fire
A USA Today bestseller
Crown of Midnight
A New York Times and USA Today bestseller
Throne of Glass
A Kirkus Best Teen Book of 2012; Amazon.com Best Book of 2012; YALSA Best Fiction for Young Adults; MTV Hollywood Crush Best YA Book of 2012 Nominee
About the Author
Throne of Glass was Sarah J. Maas's first full-length novel to be published, though she already had a large online fan base, many of whom discovered this fantasy world in its first incarnation on www.fictionpress.com, written when Sarah was just sixteen. Throne of Glass was shortlisted for the Waterstones Children's Teen Book of the Year and has sold in thirteen languages. Sarah lives in Southern California, USA.
You can find out more about Sarah and Throne of Glass at www.sjmaas.livejournal.com.
John Howe is a world-renowned fantasy illustrator who is best known for his visualization of the world of J.R.R. Tolkien. His work became one of the foundations for the design of the Peter Jackson movie adaptation of the Lord of the Rings trilogy.
Praise For The Throne of Glass Coloring Book…
"Character motivations and interactions. . . are always nuanced and on point, especially as Aelin's growing maturity offers her new perspectives on old acquaintances. . . Impossible to put down." - Kirkus Reviews on Queen of Shadows
"Packed. . . with brooding glances, simmering sexual tension, twisty plot turns, lush world building, and snarky banter." - Booklist on Queen of Shadows
"I was afraid to put the book down!" - Tamora Pierce, New York Times bestselling author on Heir of Fire
"Readers will devour Maas's latest entry. . . A must-purchase." - School Library Journal on Heir of Fire
"Tension snowballs into devastating twists and an absolutely riveting ending. . . Will leave readers ravenous for more." - Kirkus Reviews on Heir of Fire
"An epic fantasy readers will immerse themselves in and never want to leave." - starred review, Kirkus Reviews on Crown of Midnight
"Series fans will be satisfied not only by the intricate plot, dishy romance, and rich world building but they will be thrilled by the prospect of deepening adventures in the next volume." - Booklist on Crown of Midnight
"A thrilling read." - starred review, Publishers Weekly on Throne of Glass
"A must-read for lovers of epic fantasy and fairy tales." - USA Today on Throne of Glass
"A welcome breath of fresh air to the oft-neglected epic fantasy field." - Tor.com on Throne of Glass