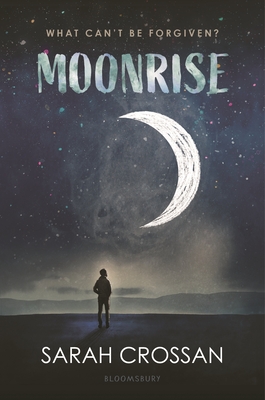 Moonrise
Hardcover

* Individual store prices may vary.
Description
From Carnegie Award-winning author Sarah Crossan comes a poignant and thought-provoking novel that explores life, sibling bonds, and forgiveness as a teen tries to reconnect with his brother on death row for a crime he may not have committed.

Seventeen-year-old Joe hasn't seen his brother in ten years. Ed didn't walk out on the family, not exactly. It's something more brutal.

Ed's locked up -- on death row.

Now his execution date has been set, and the clock is ticking. Joe is determined to spend those last weeks with his brother, no matter what other people think ... and no matter whether Ed committed the crime. But did he? And does it matter, in the end?

This poignant, timely, heartbreaking novel asks big questions: What value do you place on life? What can you forgive? And just how do you say goodbye?

Acclaim for Sarah Crossan
2016 Carnegie Award winner, One
Shortlisted for the 2016 FCBG Book Award, Apple and Rain
Shortlisted for the 2015 Carnegie Award, Apple and Rain
Shortlisted for the 2013 Carnegie Award, The Weight of Water
Praise For Moonrise…
"This exquisitely well-balanced novel-in-verse is painful to read yet almost impossible to put down. . . . Each character is fully realized, with even walk-on characters brought vividly to life with a few deft words. . . . A must-purchase for collections." - starred review, School Library Journal

"Beautifully told and incredibly powerful. . . . Deeply moving and thoughtful, Moonrise is a challenging, potent reminder that there is great injustice in the justice system and questions whether the death penalty is ever a fitting punishment." - starred review, Foreword Reviews

"Brutally emotional . . . Crossan's eloquent usage of language in this deeply affecting novel puts readers right at the heart of a very sensitive and timely story." - Kirkus Reviews

"Touching and heartrending . . . A timely catalyst destined to spark discussions about rights, fairness, and a justice system that succeeds for some but devastates others." - Booklist

"By telling Ed's story and focusing attention on the kindness and grief of people who have likewise lost relatives to execution as well as the toll it takes on the warden and his daughter, Crossan complicates the sites of empathy and ethics around this issue, making this rarely told story a useful discussion starter." - BCCB

"This contemporary star-crossed love affair is convincing and moving—and also a heartbreakingly timely portrayal of discrimination and bullying." - Horn Book Magazine on WE COME APART

"This is honest, unapologetic realism from a diverse perspective not often seen in fiction for teens. Not to be overlooked." - Kirkus Reviews, starred review on ONE

"Crossan's novel achieves a striking balance between sentimentality and sisterly devotion." - Publishers Weekly, starred review on ONE

"Crossan's ear is flawless in capturing the cries of a young girl's heart." - BCCB on APPLE AND RAIN

"Readers . . . will cheer for Apple and Rain." - Publishers Weekly on APPLE AND RAIN

"[The] story is involving, and Apple and Rain are engaging, sympathetic characters. This one is for readers who dote on happy endings." - Booklist on APPLE AND RAIN

"This is a wrenching but hopeful story of displacement, loneliness, and survival. . . . Crossan's verse packs a punch as she examines the power that difference -- but also determination -- can wield." - Publishers Weekly, starred review on THE WEIGHT OF WATER

"Graceful, effortless verse. . . . A sweet, well-paced tale [with] a silver lining." - School Library Journal, starred review on THE WEIGHT OF WATER

"A powerful coming-of-age novel about family and discovering how to be true to yourself that is well worth reading." - Booklist on THE WEIGHT OF WATER

"Narrating in image-rich free verse that packs an emotional punch, Kasienka describes what life is like for a new arrival while also exploring universal themes. . . . Memorable." - Kirkus Reviews on THE WEIGHT OF WATER
Bloomsbury YA, 9781681193663, 400pp.
Publication Date: May 8, 2018
About the Author
Sarah Crossan has lived in Dublin, London and New York, and now lives in Hertfordshire. She graduated with a degree in philosophy and literature before training as an English and drama teacher at Cambridge University. Since completing a masters in creative writing, she has been working to promote creative writing in schools.The Weight of Water and Apple and Rain were both shortlisted for the CILIP Carnegie Medal. In 2016, Sarah won the CILIP Carnegie Medal as well as the YA Book Prize, the CBI Book of the Year award and the CLiPPA Poetry Award for her novel, One.
http://www.sarahcrossan.com/
@SarahCrossan