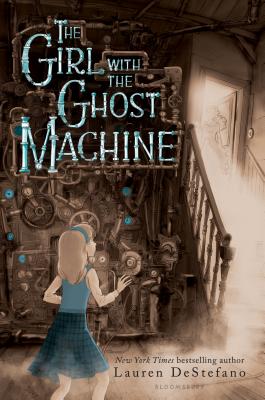 The Girl with the Ghost Machine (Hardcover)
Bloomsbury USA Childrens, 9781681194448, 224pp.
Publication Date: June 6, 2017
Other Editions of This Title:
Paperback (7/3/2018)
Prebound (7/3/2018)
* Individual store prices may vary.
Description
When Emmaline Beaumont's father started building the ghost machine, she didn't expect it to bring her mother back from the dead. But by locking himself in the basement to toil away at his hopes, Monsieur Beaumont has become obsessed with the contraption and neglected the living, and Emmaline is tired of feeling forgotten.
Nothing good has come from building the ghost machine, and Emmaline decides that the only way to bring her father back will be to make the ghost machine work…or destroy it forever.
About the Author
Lauren DeStefano is the New York Times and USA Today bestselling author of The Peculiar Night of the Blue Heart, A Curious Tale of the In-Between, The Internment Chronicles, and The Chemical Garden trilogy, which includes Wither, Fever, and Sever. She earned her BA in English with a concentration in creative writing from Albertus Magnus College in Connecticut.
LaurenDeStefano.com
@LaurenDeStefano
laurendestefano.tumblr.com
Praise For The Girl with the Ghost Machine…
"DeStefano packs a lot of emotion into a tightly focused narrative--especially as Emmaline discovers what it means to lose a memory of a loved one--and offers a quiet approach to understanding different ways of grieving." - The Horn Book Magazine
"The relationships DeStefano builds between her characters are sweet and piercingly true." - Publishers Weekly
"This eerie book is perfect for readers looking for something atmospheric, thought-provoking, and out of the ordinary." - Booklist
"A quiet, contemplative novel about loss, grieving, and the nature of memory . . . will especially appeal to fans of Bridge to Terabithia who are ready for a more sophisticated foray into questions of life and death." - BCCB
"DeStefano's lyrical writing flows with compassion and clarity . . . for thoughtful, curious readers, death must be touched and turned and examined. This book provides a close-up of loss, love, and hope." - Kirkus Reviews
"This emotionally resonant ghost story has a refreshing focus on character motivation. Recommended for voracious and thoughtful readers looking for something a bit different." - School Library Journal
"The plot, replete with buried bones, a terrible house of punishment for "problem" children, and more, will keep kids reading all night long (albeit with the lights on). DeStefano. . . . is no stranger to atmospheric middle-grade books, and is impressively amassing work that rivals that of older authors known for scary mysteries, such as Mary Downing Hahn and Zilpha Keatley Snyder." - starred review, Booklist on THE PECULIAR NIGHT OF THE BLUE HEART
"The idea that things that can be okay even if they're not perfect is carefully and deeply explored, giving readers a chance to ponder this important concept. . . . Offer this to readers who appreciate ghost stories with plenty of character development." - BCCB on THE PECULIAR NIGHT OF THE BLUE HEART
"Spooky yet heartfelt." - School Library Connection on THE PECULIAR NIGHT OF THE BLUE HEART
"Readers will be hooked from the first line of this lyrical and suspenseful mystery/fantasy (part thriller too). . . . a moving and multilayered tale. . . . Love, loss, and hope are at the heart of this exciting read." - Kirkus Reviews on A CURIOUS TALE OF THE IN-BETWEEN
"The perfect book to hand to readers looking for the mysterious and spooky." - Booklist on A CURIOUS TALE OF THE IN-BETWEEN
"DeStefano creates a beguiling world through haunting images and descriptions. . . . An eerie, moving story." - Publishers Weekly on A CURIOUS TALE OF THE IN-BETWEEN
"Dark but often funny. . . . Fans of Holly Black's Doll Bones may well enjoy this creepy, character-based tale." - The Horn Book on A CURIOUS TALE OF THE IN-BETWEEN
"DeStefano's vivid prose is both evocative and immersive. . . . Thematically haunting and skillfully executed." - BCCB on A CURIOUS TALE OF THE IN-BETWEEN
"I dare you not to fall in love with Pram, a young heroine who is as gutsy as she is compassionate. Lauren DeStefano has created a touching and unforgettable glimpse into the world of the spirits." - Ellen Potter, author of the Olivia Kidney series and THE HUMMING ROOM on A CURIOUS TALE OF THE IN-BETWEEN
"Anyone who's ever wanted to unravel a family mystery with the help of two friends--one living and one dead--will be charmed by this tale and its plucky heroine, Pram." - Kate Klise, author of DYING TO MEET YOU on A CURIOUS TALE OF THE IN-BETWEEN