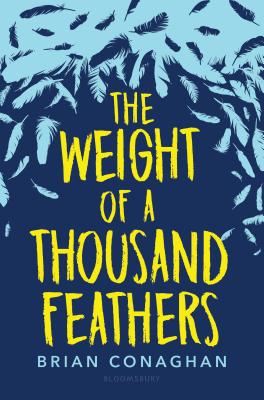 The Weight of a Thousand Feathers
Hardcover

* Individual store prices may vary.
Description
From the acclaimed author of When Mr. Dog Bites and The Bombs That Brought Us Together comes a compelling, thought-provoking, heartbreaking, and timely story that asks: how far would you go for family?
As the person who cares for his terminally-ill mother, Bobby Seed has a lot on his plate. Add to that a responsibility to watch over his little brother (with his endless question about why their mother is in so much pain), keeping up at school, and navigating a relationship with a girl friend who wants to be a girlfriend, and he's barely keeping his head above the water. Something's got to give.
But then Bobby's mother makes a request, one that seems impossible. If he agrees, he won't just be soothing her pain. He'll be helping her end it -- and end everything. Angry, stirring, and tender, this bold novel tells a story of choice and compassion, exploring the lengths to which we'll go for the people we love.
Praise For The Weight of a Thousand Feathers…
"Bobby's first-person narration is a masterful and very realistic blend of sarcasm, shame, hopefulness, earnestness, and anger. . . . Uncompromising, unflinching, and unsentimental." —Kirkus Reviews, starred review
"The relationships depicted, especially between Bobby and his mother, are raw and real, and readers will be rooting for this family . . . A heavy, well-written examination of ethics and family bonds." —Booklist
"Bittersweet and thoughtfully written . . . Teens who appreciate stories with emotional and thought-provoking plots will enjoy this novel." - VOYA
"A timeless allegory . . . Conaghan tackles the complexities of war, occupation, and totalitarianism in a direct and accessible way." —Kirkus Reviews on THE BOMBS THAT BROUGHT US TOGETHER
"Conaghan presents a compelling situation with no easy answers; it's easy to sympathize with Charlie's moral and ethical dilemmas, and the dichotomy between Old Country and Little Town could fuel provocative discussions." —Publishers Weekly on THE BOMBS THAT BROUGHT US TOGETHER
"This accomplished new novel establishes Conaghan as a major talent . . . Incredibly powerful and thought-provoking." —Bookseller on THE BOMBS THAT BROUGHT US TOGETHER
"[T]his book brings light to communities where teens are struggling under a repressive government or regime pressured by a larger neighboring nation . . . Readers will fly through the last portion of the book in one sitting." —School Library Journal on THE BOMBS THAT BROUGHT US TOGETHER
"Dylan is smart and caring, and beneath his realistically portrayed condition, he is a normal teenager with relatable concerns. As Dylan would say, this one is 'A-mayonnaise-ing.'" —Booklist on WHEN MR. DOG BITES
"Conaghan . . . does an excellent job of portraying his unconventional and memorable protagonist." —Publishers Weekly on WHEN MR. DOG BITES
"An appealingly offbeat look at friendship, sex and what's really 'normal.'" —Kirkus Reviews on WHEN MR. DOG BITES
"Insightful, engaging, and immerses teens into the world of Tourette's . . . Uninhibited and compelling." —School Library Journal on WHEN MR. DOG BITES
Bloomsbury YA, 9781681194820, 368pp.
Publication Date: February 26, 2019
About the Author
Brian Conaghan was born in 1971. He was raised in the Scottish town of Coatbridge but now lives and works as a teacher in Dublin. He is the author of The Boy Who Made It Rain and has a Master of Letters in Creative Writing from the University of Glasgow. Over the years Brian has made his dosh as a painter and decorator, a barman, a DJ, an actor, a teacher and now a writer. He currently lives in Dublin with two beauties who hinder his writing: his wife Orla and daughter Rosie.
@BrianConaghan