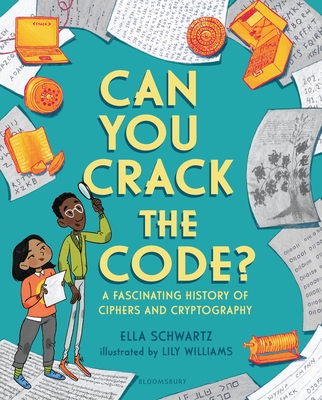 Can You Crack the Code? (Hardcover)
A Fascinating History of Ciphers and Cryptography
Bloomsbury Children's Books, 9781681195148, 128pp.
Publication Date: March 26, 2019
* Individual store prices may vary.
About the Author
Ella Schwartz writes fiction and nonfiction books for young readers. She is always asking questions and trying to learn new things. The books she writes are for kids who are just as curious as she is.
In addition to writing books, Ella is a cybersecurity warrior interfacing with the U.S. federal government on strategic technology initiatives. She has a bachelor's and master's degree in engineering from Columbia University.
When she's not working, writing, or training to run a marathon, she volunteers on outreach initiatives to promote women in science and improve science literacy.
Ella lives on Long Island, New York with her husband and three sons. Her favorite color is pink, but there is rarely anything pink in her house.
Visit Ella on her website, ellasbooks.com. Follow her on Twitter @ellaschwartz and Facebook facebook.com/EllaSchwartzAuthor/
Lily Williams grew up in Northern California, where she graduated with high distinction from California College of the Arts with a BFA in animation. Her books for children include If Sharks Disappeared and If Polar Bears Disappeared.
Williams seeks to inspire change in the world, engage audiences, and educate all ages in her practice of visual development, illustration, and animation. Her work can be seen in film, print, and classrooms around the world, and has been used to get legislation passed in the United States Senate.