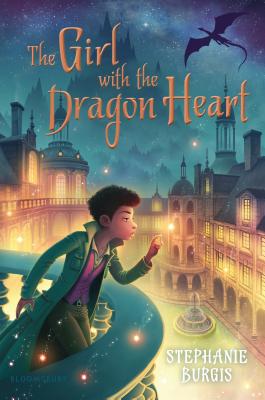 The Girl with the Dragon Heart (Hardcover)
Bloomsbury UK, 9781681196978, 256pp.
Publication Date: November 6, 2018
* Individual store prices may vary.
Description
A chocolate-filled, girl-powered fantasy with a witty heroine who learns what home truly means, perfect for fans of Shannon Hale.
"Will satisfy readers who hunger for feel-good tales that pack a girl-power punch, like Gail Carson Levine's Ella Enchanted or the movie Moana." --School Library Journal on The Dragon with a Chocolate Heart
Silke needs to stay out of trouble. But when your best friend is a dragon-turned-hot-tempered-girl, trouble is always right around the corner. Although Silke has found work at The Chocolate Heart as a waitress and master promoter, she's certain it's not going to last. Years ago, her family was forced to flee their war-torn homeland. Then her parents disappeared while traveling through the mysterious fairy land, Elfenwald. Wherever she goes, trouble is hot on her heels. What she needs now is somewhere to call home--somewhere safe.
One day, Silke gets the opportunity she's been waiting for: The Crown Princess personally asks her to spy on the Elfenwald royal family who are visiting the kingdom for the first time in history. In return, Silke will have the home she's always wanted--in the secure palace. But her mission isn't as simple as she expected. Her parents' disappearance still haunts her, and the royal visitors seem increasingly sinister. Soon Silke discovers that her city is in danger--and that maybe it's more her home than she ever realized.
About the Author
Stephanie Burgis grew up in East Lansing, Michigan, but now lives in Wales with her husband and two sons, surrounded by mountains, castles and coffee shops. She is the author of The Dragon with the Chocolate Heart, the tween fantasy trilogy, Kat, Incorrigible and the forthcoming historical fantasy adult title, Masks and Shadows. www.stephanieburgis.com@stephanieburgis