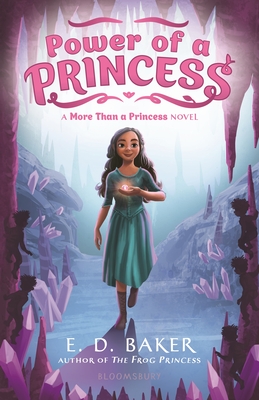 Power of a Princess (More Than a Princess)
Hardcover

* Individual store prices may vary.
Description
From beloved author E.D. Baker, an adventurous tale about a princess who is more than what she seems -- and a kingdom whose fate rests in her hands.

Aislin is more than just a princess. Born to a fairy king and pedrasi queen, she's strong, smart, and brave, with magical gifts she's only beginning to discover. Aislin has spent her whole life keeping her family's gifts hidden from the non-magic folk who surround her kingdom, and is shocked to find out the humans knew about these enchantments all along. But when the fairies decide to move back onto human territory, it soon becomes clear that some will not be happy about this change.

As she sets out to restore the balance, Aislin chooses a surprising group of young women to join her – girls she knows are brave and loyal, but who don't have the qualities of typical guards or princess confidantes. Things only get more complicated when an old foe appears, surely up to no good. The princess knows she has the power and ingenuity to stand up for herself and her kingdom, especially with her friends by her side – will that be enough to set things right?

E. D. Baker is the author of many beloved books for young readers, including The Frog Princess, which was the inspiration for Disney's The Princess and the Frog. A classic and original fairy tale that celebrates goodness in all shapes and sizes, More than a Princess will resonate with readers who love magic, suspense, girl power, and adventure.
Praise For Power of a Princess (More Than a Princess)…
"An empowering read for middle-grade girls; it presents strong female characters, a fun and smart lead, and it rolls with themes about harmony between people who are quite different from each other. Baker is a superstar, well versed in writing princesses who are more than what's typical or expected. . . . It's an added delight that the story's world is so vividly described and well fleshed out, making any reader wish they could visit." - Booklist online

"Aislin is unfailingly brave and resourceful . . . Baker's world building is perfectly attuned to young sensibilities as she presents a realm of physical beauty, interspecies harmony, and mixed-race familial love for readers to visit and for Aislin to call home." —BCCB, on More Than a Princess

"Aislin's journey to self-acceptance is rewarding, and readers will easily draw parallels between Aislin's world and their own." —Publishers Weekly, on More Than a Princess

"Whenever Aislin heads outdoors, [the] author's gift for synthesizing nature and magic comes into play.... A quirky, imaginative tale." —Kirkus Reviews, on More Than a Princess

"Self-esteem building in a lively package for younger middle grade readers who enjoy light magical adventure tales." —School Library Journal, on More Than a Princess

"Baker (the Frog Princess series) gives this series starter a familiar, Disney feel, which will engage younger readers, while themes of courage and self-acceptance give it a powerfully positive message." —Booklist, on More Than a Princess

"Full of fun and whimsy. A delightful romp through a truly unique fairy tale world!" —Jessica Day George, New York Times bestselling author of Tuesdays at the Castle, on The Fairy-Tale Matchmaker

"Annie is an enjoyable, independent, and undaunted character, who uses wits and skills rather than spells in her endeavors." —Kirkus Reviews on A Question of Magic

"Slyly combines fairy-tale tropes . . . The humor and relationships created by Baker are happily reminiscent of such classics as Howl's Moving Castle." —Kirkus on A Question of Magic
Bloomsbury Children's Books, 9781681197692, 304pp.
Publication Date: November 19, 2019
About the Author
E.D. Baker is the author of the Tales of the Frog Princess series, the Wide-Awake Princess series, the Fairy-Tale Matchmaker series, the Magic Animal Rescue series, and many other delightful books for young readers, including A Question of Magic, Fairy Wings, and Fairy Lies. Her first novel, The Frog Princess, was the inspiration for Disney's hit movie "The Princess and the Frog." She lives with her family and their many animals in Maryland.

Visit talesofedbaker.com for special giveaways and to learn more about all of E.D. Baker's books!

facebook.com/edbakerauthor/ @edbakerbooks
or
Not Currently Available for Direct Purchase