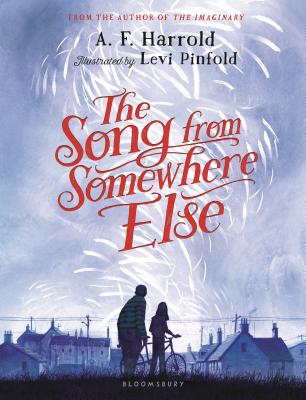 The Song From Somewhere Else (Paperback)
Bloomsbury Children's Books, 9781681197883, 240pp.
Publication Date: March 5, 2024
Other Editions of This Title:
Hardcover (7/3/2017)
Hardcover (11/10/2016)
* Individual store prices may vary.
Description
Frank thought her summer couldn't get any worse--until big, weird, smelly Nick Underbridge rescues her from a bully, and she winds up at his house.
Frank quickly realizes there's more to Nick than meets the eye. When she's at his house, she hears the strangest, most beautiful music, music which leads her to a mysterious, hidden door. Beyond the door are amazing creatures that she never even dreamed could be real. For the first time in forever, Frank feels happy . . . and she and Nick start to become friends.
But Nick's incredible secrets are also accompanied by great danger. Frank must figure out how to help her new friend, the same way that he has helped her.
Paired with gorgeous black-and-white illustrations from Levi Pinfold, acclaimed author A. F. Harrold weaves a powerful story about unlikely friendship, strange magic, and keeping the shadows at bay.
Awards for The Song from Somewhere Else
A School Library Journal Best Book of 2017
A Wall Street Journal Best Book of 2017
About the Author
A.F. Harrold is an English poet (1975 - present). He writes and performs for adults and children, in cabaret and in schools, in bars and in basements, in fields and indoors. He was Glastonbury Festival Website's Poet-In-Residence in 2008, and Poet-In-Residence at Cheltenham Literature Festival in 2010. He won the Cheltenham All Stars Slam Championship in 2007 and has had his work on BBC Radio 4, Radio 3 and BBC7. He is active in schools work, running workshops and slams and doing performances at ungodly hours of the morning, and has published several collections of poetry. He is the owner of many books, a handful of hats, a few good ideas and one beard.
Praise For The Song From Somewhere Else…
"A.F. Harrold's work is masterfully paced and stunningly crafted . . . Levi Pinfold's striking black-and-white illustrations add mood, creating a reading experience similar to Patrick Ness's A Monster Calls with the chills and growing terror of Neil Gaiman's Coraline." - starred review, Shelf Awareness
"Strong characterizations and a good dose of spookiness are standouts in this illustrated novel . . . Hand to fans of Neil Gaiman's Coraline, Holly Black's Doll Bones, and other books that balance scariness and substance." - starred review, School Library Journal
"Pinfold's atmospheric illustrations, darkly menacing and mysterious by turns, add to the contemporary folk-tale atmosphere . . . Captivating." - starred review, Kirkus Reviews
"Fairy tale, fable, and dream . . . Harrold's incisive, poetic way with words . . . intensifies the vague darkness of his otherworldly imagery. Pinfold's shadowy art deepens the story's air of mystery and threat." - starred review, The Horn Book Magazine
"A haunting, sorrowful story tinged with magic and hope." - Wall Street Journal
"Friendship, acceptance, trust, and decency weave their magic throughout Harrold's tale . . . Lush black-and-white illustrations by Pinfold enhance the secrecy, wonder, and mood of the story." - Booklist
"British poet Harrold writes with an engaging voice rich with character . . . Spot illustrations and immersive double-page black and white drawings are captivating in their intricacy and melancholy, blending perfectly with the poignant tone that resonates through the whole novel." - BCCB
"Harrold offers an appealingly childcentric world with hefty doses of scare and malevolence . . . Wonderfully entertaining." - starred review, Kirkus Reviews on THE IMAGINARY
"[An] inventive mix of humor and suspense . . . A great choice for readers who like fantastic tales with a dose of true scariness." - starred review, School Library Journal on THE IMAGINARY
"Most affecting and lovely when describing powerful relationships." - The New York Times Book Review on THE IMAGINARY
"Pinfold's story has a timeless quality . . . A great pick for storytime, bedtime, anytime." - starred review, Kirkus Reviews on BLACK DOG
"Fear, fun, and just dripping with beauty." - starred review, School Library Journal on BLACK DOG
"Quirky, funny, and often heart-stopping." - starred review, Booklist on BLACK DOG
"Pinfold's interiors are crammed with quirky detail." - starred review, Publishers Weekly on BLACK DOG
or
Not Currently Available for Direct Purchase