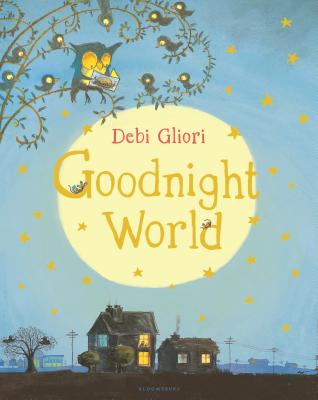 Goodnight World (Board book)
Bloomsbury Children's Books, 9781681197890, 26pp.
Publication Date: August 7, 2018
Other Editions of This Title:
Hardcover (8/15/2017)
* Individual store prices may vary.
Description
Goodnight moon,
goodnight sun.
Goodnight, goodnight,
to everyone
Every child is getting ready for bed. But children aren't the only ones who go to sleep at night--so do plants, animals, and everything else. It's time to say goodnight to the world!
This soothing board book with soft, beautiful illustrations is perfect for snuggling up with at bedtime.
About the Author
Debi Gliori is the bestselling author/illustrator of over eighty books for children, including the critically acclaimed Dragon's Extraordinary Egg and What's the Time, Mr. Wolf?, as well as the author of Little Owl's Egg. Her favorite color is blue or, more precisely, four different shades of blue: cerulean blue, cobalt blue, Mediterranean turquoise blue, and warm ultramarine blue. She lives near Edinburgh, Scotland.
www.fiddleandpins.blogspot.co.uk
www.debiglioribooks.com
Praise For Goodnight World…
"Debi Gliori brings grandeur and tenderness to the business of going to bed . . . Curving lines and warm, bright colors give a feeling of softness to illustrations . . . Lovely." —Wall Street Journal
"An ideal bedtime tale for little ones . . . The perfect selection to snuggle up with. It is like being wrapped in a soft, warm blanket just before naptime." —School Library Journal
"A comforting, plush-toy quality to her rounded images, and enough inventiveness . . . to make this a fine addition to the bedtime bookshelf." —Publishers Weekly
"Rich and evocative but beautifully simple, with lovely cadences for reading aloud. . . One would be hard-pressed to find a warmer or more engaging adoption/blended-family tale than this one." —Kirkus Reviews on DRAGON'S EXTRAORDINARY EGG
"Witty, well-worded, and warmhearted. . . Endearing characters and engaging illustrations. Children will be immensely satisfied with the surprise ending." —School Library Journal on DRAGON'S EXTRAORDINARY EGG
"A family history about unlikely but enduring love. . . There's a lot of enjoyment to be derived from the contrast of the preening, aerodynamic dragons with the good-hearted groundedness of the penguins." —Publishers Weekly on DRAGON'S EXTRAORDINARY EGG
"Gliori's watercolor-and-ink illustrations are both detailed and delicately executed, charming and wowing at the same time. There is much to enjoy here, and the illustrations and allusions beg for repeat readings." —Kirkus Reviews on WHAT'S THE TIME, MR. WOLF?
"From the morning-and-night endpapers to the final illustration in which Mr. Wolf sleeps happily in his bed with rabbits curled up on each bedpost, this will have children spotting new delights for many a re-reading." —Horn Book on WHAT'S THE TIME, MR. WOLF?