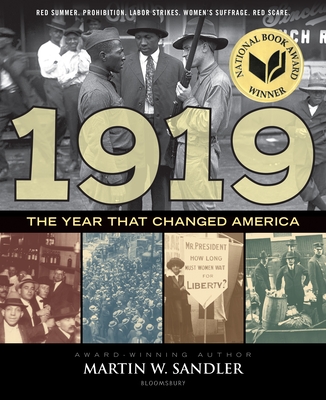 1919 The Year That Changed America
Hardcover

* Individual store prices may vary.
Description
WINNER OF THE 2019 NATIONAL BOOK AWARD

1919 was a world-shaking year. America was recovering from World War I and black soldiers returned to racism so violent that that summer would become known as the Red Summer. The suffrage movement had a long-fought win when women gained the right to vote. Laborers took to the streets to protest working conditions; nationalistic fervor led to a communism scare; and temperance gained such traction that prohibition went into effect. Each of these movements reached a tipping point that year.

Now, one hundred years later, these same social issues are more relevant than ever. Sandler traces the momentum and setbacks of these movements through this last century, showing that progress isn't always a straight line and offering a unique lens through which we can understand history and the change many still seek.
Praise For 1919 The Year That Changed America…
"Sandler's prose is vigorous, impassioned, and carefully contextualized. . . . A fascinating story, augmented by numerous attractive archival images. An entertaining and instructive look at a tumultuous year." —Kirkus Reviews

"Well researched and presented in an attractive manner, Sandler's text delivers a solid look at a pivotal year." —School Library Journal

"[C]lear, cogent text with many well-chosen archival photos. . . . An intriguing look back at America in 1919." —Booklist

"Sandler's narrative skill and eye for detail, and the abundant archival photos throughout, make for an engrossing resource." —Publishers Weekly

"Engaging and highly readable." —School Library Connection

"Sandler illuminates the relevance of history . . . Discover: this centennial look at a fraught year in U.S. history makes a valiant case for 1919's outsize significance." - Shelf Awareness

"As welcome as some of 1919's beginnings might have been…many of the archival photos in "1919" capture a sense of turmoil….Sandler, a prolific historian for young readers, includes timelines that run through the present day in an effort to put the events of 1919 in historical context." - Wall Street Journal

"Though written for teenagers, this album-size volume lends itself to coffee-table enjoyment for adults, who may naturally feel some connection to the numerous photographs of John, Paul, George and Ringo." —Wall Street Journal on HOW THE BEATLES CHANGED THE WORLD

"Here this delicate topic is handled with sensitivity and insight. . . . A must-have for any library collection." —Starred review, School Library Journal on IMPRISONED

"Beautifully illustrated with well-chosen photographs and other documents, this handsome book offers a clear view of an episode in American history that still receives too little focus." —Starred review, Booklist on IMPRISONED
Bloomsbury Children's Books, 9781681198019, 192pp.
Publication Date: January 8, 2019
About the Author
Martin W. Sandler is an award-winning author of many books for young readers, including The Story of Photography, a Boston Globe-Horn Book Award Honor Book, and Vaqueros. He is also a television producer. A five-time Emmy winner and a two-time Pulitzer Prize nominee, he lives in Massachusetts with his wife.