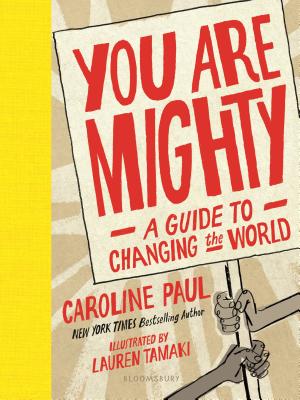 You Are Mighty
A Guide to Changing the World
Hardcover

* Individual store prices may vary.
Description
Being a good citizen means standing up for what's right—and here's just the way to start. From the author of The Gutsy Girl, this kids' guide to activism is the perfect book for those with a fierce sense of justice, a good sense of humor, and a big heart. This guide features change-maker tips, tons of DIY activities, and stories about the kids who have paved the way before, from famous activists like Malala Yousafzai and Claudette Colvin to the everyday young people whose habit changes triggered huge ripple effects. So make a sign, write a letter, volunteer, sit-in, or march! There are lots of tactics to choose from, and you're never too young to change the world.
Praise For You Are Mighty: A Guide to Changing the World…
"For kids who are passionate about effecting change and for those who aren't aware of their potential impact, this book is a useful guide for brainstorming and inspiration." - Kirkus Reviews
"Paul encourages readers--girls, specifically--to pursue lives of excitement in a book that blends elements of memoir, guidebook, and journal." - Publishers Weekly
"A guide to changing the world might seem intimidating, but Paul breaks down activism . . . in an easily digestible way. . . . Every public library should purchase a copy to plant the seed or empower teens already active in speaking up for injustice." - School Library Journal
"The perfect book for young feminists, or really any woman who needs a dose of inspiration in her life . . . Viva la Gutsy Girl!" - Buzzfeed
"Part high-energy how-to guide, part hilarious memoir, and part interactive adventure journal designed to help girls of all ages build confidence, pluck, and bravery by venturing outside." - Outside Magazine
"Delightful . . . There's a lot here that will thrill any girl--or boy--of any age." - The San Francisco Chronicle
"Caroline Paul's inspiring and sometimes astonishing stories of the adventures that she and other great women have undertaken, alongside Wendy MacNaughton's beautiful illustrations, make The Gutsy Girl the book of the year for daredevils, doers, and dreamers of all ages." - Cheryl Strayed, author of WILD
Bloomsbury Children's Books, 9781681198224, 128pp.
Publication Date: May 15, 2018
About the Author
Caroline Paul is the author of the New York Times bestselling The Gutsy Girl: Escapades for Your Life of Epic Adventure as well as the adult titles Lost Cat: A True Story of Love, Desperation, and GPS Technology; East Wind, Rain; and Fighting Fire. She lives in San Francisco, California.
Lauren Tamaki has illustrated articles for the New York Times, Lena Dunham's Lenny Letters, and the Brooklyn edition of the Wildsam Field Guides. You Are Mighty is her first children's book. She lives in Brooklyn, New York.