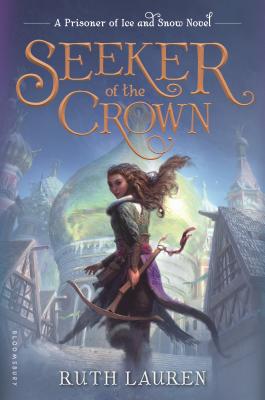 Seeker of the Crown (Prisoner of Ice and Snow) (Paperback)
Bloomsbury Children's Books, 9781681199764, 288pp.
Publication Date: April 3, 2029
Other Editions of This Title:
Hardcover (4/3/2018)
MP3 CD (9/3/2019)
* Individual store prices may vary.
Description
* "True to the best fantasy traditions." --Kirkus reviews, starred review
In this thrilling sequel to acclaimed middle-grade fantasy Prisoner of Ice and Snow, the fate of the queendom rests in the hands of huntress Valor and her friends.
One month has passed since Valor broke her twin sister Sasha out of jail. But the girl responsible for Sasha's imprisonment, Princess Anastasia, has gone missing, and Valor still longs for justice. So when the queen, desperate to find her daughter, asks Valor and Sasha to track Anastasia down, they don't hesitate to accept the perilous assignment.
But just as the girls team up with old friends to embark on the search, the queen vanishes without a trace. If Valor can't restore the rightful ruler, she risks getting sent back to prison . . . and tearing her newly reunited family apart. Relying on her own instincts--and some allies she can't quite trust--Valor must navigate twisting city streets, bustling docks, and hidden passages to foil Anastasia' nefarious plot before it's too late.
An unforgettable heroine embarks on an equally unforgettable adventure in the icy and dangerous queendom of Demidova.
Don't miss Ruth's Lauren's first book:
Prisoner of Ice and Snow
About the Author
Ruth Lauren is the author of Prisoner of Ice and Snow and its sequel Seeker of the Crown. She lives in a Victorian house in the West Midlands, England with family and a lot of cats. She likes chocolate, walking in the woods, cheese, orchids, going to the movies, and reading as many books as she can. She's been a teacher and worked in many different offices, but she likes writing best.
www.ruthlauren.com
@Ruth__Lauren
Praise For Seeker of the Crown (Prisoner of Ice and Snow)…
"[A] thrill-a-minute adventure story . . . True to the best fantasy traditions for preteens." —starred review, Kirkus Reviews
"This fast-paced adventure with strong, believable characters, a fascinating setting, and thrilling plot twists belongs in all collections serving middle grade readers." —VOYA
"Chases, captures, and intrigue at every turn . . . This is for fans of intrepid girl heroes who aren't perfect." —Booklist
"An excellent series that will have readers once again wondering what will happen in a land of ice and snow filled with treason and treachery." —School Library Journal
"Anyone who likes adventure, survival stories, folktales, or novels with strong female protagonists will not be able to put this down." —starred review, School Library Journal on PRISONER OF ICE AND SNOW
"A fast-paced adventure . . . Palace intrigue and diplomatic double-crosses play their part in the thematic arc." —Booklist on PRISONER OF ICE AND SNOW
"Valor is both true to her name and resourceful . . . A page-turner with an intrepid protagonist." —Kirkus Reviews on PRISONER OF ICE AND SNOW
"Readers will . . . root for the defiant Valor." —BCCB on PRISONER OF ICE AND SNOW
"Ruth Lauren builds her story with skill and exquisite detail. The prose sings out and draws readers in with an intriguing plot and characters bursting with conviction. A terrific middle grade read." —Book Riot on PRISONER OF ICE AND SNOW
"I was captivated from the first word to the last. This is a story readers will love again and again!" —Jennifer A. Nielsen, NEW YORK TIMES bestselling author of THE FALSE PRINCE, on PRISONER OF ICE AND SNOW
"Action-packed and full of heart." —Aimée Carter, author of SIMON THORN AND THE WOLF'S DEN, on PRISONER OF ICE AND SNOW
or
Not Currently Available for Direct Purchase