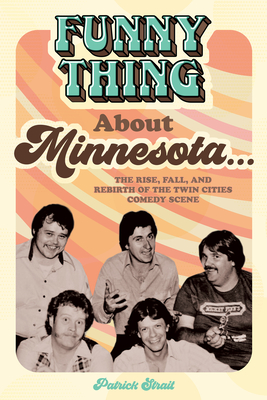 Funny Thing about Minnesota...
The Rise, Fall, and Rebirth of the Twin Cities Comedy Scene
Paperback

* Individual store prices may vary.
Description
Before the Twin Cities established themselves as a hotbed for stand-up comedy, producing some of the biggest names in comedy history, the local scene consisted of five guys in a basement bar doing their best to make people laugh. The birth of Minnesota stand-up traces back to the 1970s and five people who paved the way: Scott Hansen, Louie Anderson, "Wild Bill" Bauer, Alex Cole, and Jeff Gerbino. The "original five" got their start performing in a Minneapolis dive bar called Mickey Finn's, and together they led the charge in establishing one of the most vital and vibrant comedy scenes in the country. They opened clubs and comedy stages across the Cities, brought the nation's top stand-up acts to town, and inspired future generations of ground-breaking comedians--from Lizz Winstead and Joel Hodgson to Mitch Hedberg, Fancy Ray McCloney, and Maria Bamford. But like any artistic passion that rises quickly to become a mainstream phenomenon, the comedy scene eventually was fractured by bloated egos and an influx of money and drugs--until a second wave, led by the nationally renowned Acme Comedy Club, helped bring comedy back to the forefront in Minnesota. Decades later, the impact of these early comedy pioneers lives on through television, movies, clubs, and countless stand-up acts who followed their path. The way they carved that path--well, it's actually a pretty funny story.
Minnesota Historical Society Press, 9781681341866, 232pp.
Publication Date: February 2, 2021