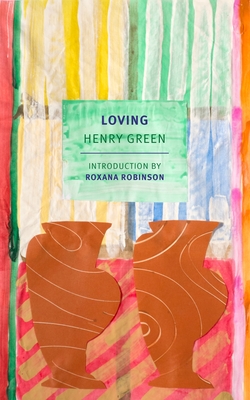 Loving
Paperback

* Individual store prices may vary.
Description
Drama unfolds between the servants and masters of an aristocratic Irish household in this "classic upstairs-downstairs story" set during World War II—for fans of Downton Abbey (Time)
 
The war has led to a scarcity of experienced staff at the vast hereditary house of an aristocratic Anglo-Irish family. When Eldon the butler dies, Raunce—the head footman—is assigned his job. The other servants are taken aback by this irregular promotion, but lovely young Edith, a recent hire, is quite attracted to the
older Raunce and a flirtation begins. And it is Edith who discovers Mrs. Tennant's daughter-in-law, whose husband is fighting at the front, in bed with a neighbor one morning, scandalizing the whole household.

When the Tennants depart for England, Raunce is left in charge of the house and struggles to control its disputatious inhabitants as well as to secure the love of Edith, especially after a precious family jewel disappears. In Loving, Henry Green explores the deeply precarious nature of ordinary life against the background of the larger world at war.
Praise For Loving…
"No English novel of the 1940s has better stood the test of time. Indeed Loving has gathered power, the way photographs and very few novels do, simply by outlasting the people in it. The characters we meet seem so real, so attended to, so beautifully themselves, that it is a question whether we can forgive them for ever having to die."
—Lorin Stein, Los Angeles Review of Books

"Loving is dominated by what it excludes—as much by the war as by the interior lives of its characters. For both the war and the interior life remain a void within the novel, which Green's setting and style allow him to skirt while making us aware that he skirts them. In that, the novel
stands as perhaps the purest example of the art of exclusion, suggesting the impossibility of seeing life steady and seeing it whole."
—Michael Gorra

"In a masterpiece like Loving . . . Green was able so exquisitely to modulate his idiom to suit his glorious and trivial subject."
—Brooke Allen, New Criterion

"He brings pleasure—a pleasure more intense, more original, more rewarding than that offered by any of his contemporaries . . . This writer is unique. No fiction has ever thrilled me in the same way as the great moments in Living and Loving; I have been moved by Tolstoy, Lawrence, Proust and others, perhaps more so, but not in the same way."
—Sebastian Faulk, The Guardian

"Loving is a classic upstairs-downstairs story, with the emphasis on downstairs . . . Green's generosity towards even the most scheming and rascally of them offers a lesson you never forget."
—Richard Lacayo, Time

"Green's keen ear for dialogue and lightness of touch are absolutely masterful, and it is my sincere hope that we will not lose this hilarious, challenging, delightful little book again."
—Hal Hlavinka, The Brooklyn Daily
 
"Loving's drama (and its comedy, too) is the anarchy of uncertainty . . . serves nicely as a parable for our liminal political moment."
—Dan Piepenbring, The Paris Review

"In all of these novels we are made aware of the most profound and surprising truths about life, love and the human heart without being able to pinpoint any one page, line, or moment of epiphany. To read all three back-to-back is to find oneself in the presence of rare genius, fit to sit along Woolf, Fitzgerald and Joyce on anyone's shelf of classics. Henry Green is here to stay."
—David Wright, The Seattle Times

"This new edition . . . is cause for celebration . . . [Green] wriggles free of categories, the true strangeness of his prose not always evident until we slow down to see it has been hiding in plain sight."
—Dorian Stuber, Numero Cinq
NYRB Classics, 9781681370149, 224pp.
Publication Date: October 18, 2016
About the Author
Henry Green (1905–1973) was the pen name of Henry Vincent Yorke. Born near Tewkesbury in Gloucestershire, England, he was educated at Eton and Oxford and went on to become the managing director of his family's engineering business, writing novels in his spare time. His first novel,  Blindness (1926), was written while he was at Oxford. He married in 1929 and had one son, and during the Second World War served in the Auxiliary Fire Service. Between 1926 and 1952 he wrote nine novels, Blindness, Living, Party Going, Caught, Loving, Back, Concluding, Nothing, and Doting, and a memoir, Pack My Bag. 

Roxana Robinson is the author of eight works of fiction, including the novels Cost and Sparta. She is also the author of Georgia O'Keeffe: A Life. A former Guggenheim Fellow, she edited The New York Stories of Edith Wharton and wrote the introduction to Elizabeth Taylor's A View of the Harbour, both published by NYRB Classics. Robinson is currently the president of the Authors Guild.