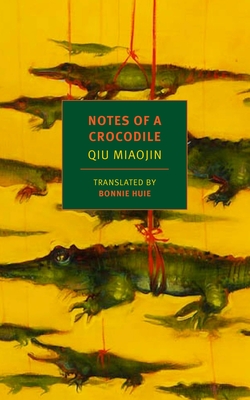 Notes of a Crocodile (NYRB Classics)
Paperback

* Individual store prices may vary.
Other Editions of This Title:
MP3 CD (2/13/2018)
Description
WINNER OF THE 2018 LUCIEN STRYK ASIAN TRANSLATION PRIZE



The English-language premiere of Qiu Miaojin's coming-of-age novel about queer teenagers in Taiwan, a cult classic in China and winner of the 1995 China Times Literature Award.

An NYRB Classics Original
Set in the post-martial-law era of late-1980s Taipei, Notes of a Crocodile is a coming-of-age story of queer misfits discovering love, friendship, and artistic affinity while hardly studying at Taiwan's most prestigious university. Told through the eyes of an anonymous lesbian narrator nicknamed Lazi, this cult classic is a postmodern pastiche of diaries, vignettes, mash notes, aphorisms, exegesis, and satire by an incisive prose stylist and major countercultural figure.

Afflicted by her fatalistic attraction to Shui Ling, an older woman, Lazi turns for support to a circle of friends that includes a rich kid turned criminal and his troubled, self-destructive gay lover, as well as a bored, mischievous overachiever and her alluring slacker artist girlfriend.

Illustrating a process of liberation from the strictures of gender through radical self-inquiry, Notes of a Crocodile is a poignant masterpiece of social defiance by a singular voice in contemporary Chinese literature.
Praise For Notes of a Crocodile (NYRB Classics)…
"[A] thrillingly transgressive coming-of age story by the Taiwanese writer Qiu Miaojin. Bonnie Huie's translation is nothing short of remarkable—loving, even; one gets the sense that great pains have been taken to preserve the voice behind this lush, ontological masterwork...First published in 1994, [it] is in many ways a futuristic text, as it contains conversations about identity that are happening now - and ones that have yet to. It is refreshing to read a novel that so frankly examines patriarchy, misogyny, homophobia, gender normativity and capitalism—especially one that howls so freely with pain." —Leopoldine Core, The New York Times Book Review

"Billed as a cult classic and crafted with a unique mix of notes, diary entries, short scenes, and satire, this updated translation will shed more light on the work of a renowned but little-known author." —Sara Novic, Elle

"Her prose is in turns satirical, obsessive, and devastating, and explores 'closetedness' amidst consuming romantic love, isolation, and crippling mental illness…Qui's work has, in a way, fulfilled what both the narrator Lazi and the crocodile are yearning for throughout the book: communion and solace with like-minded creatures." —Liz von Klemperer, Lambda Literary

"Miaojin's willingness to show youth at its most self-absorbed and earnest is part of the book's appeal. Most readers—perhaps especially those who identify as LGBTQ—will see themselves somewhere in Lazi's agonized social circle. But Miaojin also reminds her readers at every turn how truly isolating otherness can be...A meandering, but moving, look at queer identity." —Kirkus Reviews

"Despite a short life, Qiu Miaojin has left behind a notable legacy in contemporary Chinese literature. Her writings, along with her tragic death, have shed new light on the predicament gays and lesbians faced in Taiwanese society.... At the heart of Qiu's work lies the author's recognition that the nature of passion and love intensifies human existence in both its most beautiful and its most monstrous moments." —Li-hua Ying, Professor of English, Bard College

"Qiu Miaojin...had an exceptional talent. Her voice is assertive, intellectual, witty, lyrical, and intimate...her works continue to command a huge following among college-educated lesbians in Taiwan, for she gave beautiful and soulful expression to the experiences of that community." —Tze-Lan D. Sang, Professor of Chinese literature and media studies, Michigan State University
NYRB Classics, 9781681370767, 256pp.
Publication Date: May 2, 2017
About the Author
Qiu Miaojin (1969–1995)—one of Taiwan's most innovative literary modernists, and the country's most renowned lesbian writer—was born in Chuanghua County in western Taiwan. She graduated with a degree in psychology from National Taiwan University and pursued graduate studies in clinical psychology at the University of Paris VIII. Her first published story, "Prisoner," received the Central Daily News Short Story Prize, and her novella Lonely Crowds won the United Literature Association Award. While in Paris, she directed a thirty-minute film called Ghost Carnival, and not long after this, at the age of twenty-six, she committed suicide. The posthumous publications of her novels Last Words from Montmartre and Notes of a Crocodile made her into one of the most revered countercultural icons in Chinese letters. After her death in 1995, she was given the China Times Honorary Prize for Literature. In 2007, a two-volume edition of her Diaries was published, and in 2017 she became the subject of a feature-length documentary by Evans Chan titled Death in Montmartre.

Bonnie Huie is the recipient of a PEN/Heim Translation Fund Grant. Her rendition of Motojirō Kajii's story "Under the Cherry Blossoms" was nominated for a Pushcart Prize, and she has also translated the work of Tatsuhiro Ōshiro. Her writings and translations appear in The Brooklyn Rail, Kyoto Journal, and Afterimage. Huie lives in New York.