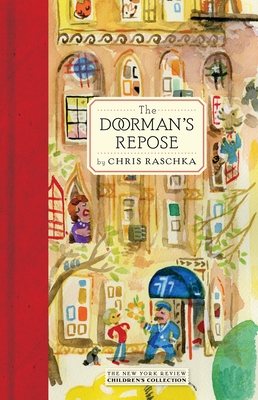 The Doorman's Repose
Hardcover

* Individual store prices may vary.
Description
From Caldecott Award winner Chris Raschka, tales of unforgettable characters who live in a NYC apartment building

"To the company of ur-New Yorkers like Stuart Little, Harriet the Spy, and Lyle, Lyle, Crocodile, let me hold open the door for The Doorman's Repose. A new favorite." —Gregory Maguire

"….marvelously intriguing stories…" —Lemony Snicket

Some of us look up at those craggy, mysterious apartment buildings found in the posher parts of New York City and wonder what goes on inside. The Doorman's Repose collects ten stories about 777 Garden Avenue, one of the craggiest. The first story recounts the travails of the new doorman, who excels at all his tasks except perhaps the most important one—talking baseball. Others tell of a long-forgotten room, a cupid-like elevator, and the unlikely romance of a cerebral psychologist and a jazz musician, both of whom are mice. Because the animals talk and the machinery has feelings, these are children's stories. Otherwise they are for anyone intrigued by what happens when many people, strangers or kin, live together under one roof.
Praise For The Doorman's Repose…
"As we all know, it is very difficult to break into an apartment building and investigate the activities of its inhabitants.  Luckily, Chris Raschka has managed to do this for us, so we may enjoy these marvelously intriguing stories without going to prison." —Lemony Snicket

"Raschka brings readers to Manhattan's Upper East Side in this delightful novel told through linked stories, set in and around a fictional apartment building...it's an off-kilter vision of New York City that feels simultaneously true in its bones." —Publishers Weekly, "Best Middle Grade Books of 2017"

"Raschka writes with a mixture of lighthearted humour, irony and earnestness. He creates a vision of New York City that's fantastical, eccentric but charming, and at times, laugh-out-loud funny...Each story features a full-page impressionistic illustration by Raschka. Readers will likely return to these and ponder them for clues and insights…[The Doorman's Repose] shows exceptional storytelling ability, craftsmanship and a love for language. This is a rare book that can delight young as well as adult audiences." —Julie Hakim Azzam, TLS

"A grand old apartment building at 777 Garden Ave. on Manhattan's Upper East Side is the setting for a series of tales filled with humor, imagination, and sweetness. Raschka creates a plethora of wonderfully eccentric characters, human and otherwise…stories roam all over the building and back and forth through many years with quirky, interconnected characters in starring roles….A warm, wonderful delight for readers young and old."  —Kirkus starred review

"[A] humorous, thought-provoking collection of stories...Imagination is built into every detail...The sophisticated writing style makes this book most appropriate for a middle-grade audience, though older readers will also appreciate 777 Garden Avenue's intricacies. Ultimately, this curious character study reveals how everyone is connected, whether by fleeting interaction or grand gesture." —Booklist

"[Raschka's] rich vocabulary creates characters that are believable, while also taking ordinary events and making them sound magical…This is a delightful read and the stories will be remembered by the reader for a long time. Teachers, students, and school librarians will definitely want to add this to their collections." —School Library Connection

"It doesn't seem quite fair that Chris Raschka, so adept at telling stories pictorially, should be equally brilliant at telling them with words, but he is.  What is it really like to live in the greatest city in the world?  Read this tribute to the human and animal tenants of a quirky old apartment building in uptown Manhattan and you'll know.  The Doorman's Repose is funny and moving and what those of us who write for young readers all secretly aspire to and almost never pull off: a book that will be devoured and cherished by kids and parents alike." —Tor Seidler

"O. Henry proposed four million New York stories, but he was off by ten: the droll and expressive episodes offered in Chris Raschka's The Doorman's Repose. Set in an Upper East Side apartment building at a smart address, Raschka's stories use comic understatement alongside ink wash illustrations in retailing everyday moments in the interconnected lives of residents both high and low. To the company of ur-New Yorkers like Stuart Little, Harriet the Spy, and Lyle, Lyle, Crocodile, let me hold open the door for The Doorman's Repose. A new favorite." —Gregory Maguire

"Raschka's genius lies in capturing the essence of situations that are deeply felt by children." —School Library Journal
NYR Children's Collection, 9781681371009, 184pp.
Publication Date: May 2, 2017
About the Author
Chris Raschka has made more than sixty books for children, including Yo! Yes?, Five for a Little One, A Ball for  Daisy, and, with Vladimir Radunsky, Alphabetabum, which is published by The New York Review Children's Collection. His work has earned one Caldecott Honor and two Caldecott Medals, as well as the Ezra Jack Keats Award, and his books have been selected five times for The New York Times Best Illustrated Books list. He lives in New York City.
or
Not Currently Available for Direct Purchase