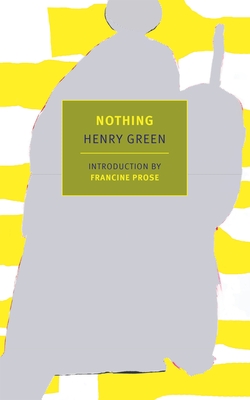 Nothing
Paperback

* Individual store prices may vary.
Other Editions of This Title:
Paperback (10/1/2000)
Description
Years ago, Jane Weatherby had a torrid affair with John Pomfret, the husband of her best friend. Divorces ensued. World War II happened. Prewar partying gave way to postwar austerity, and Jane and John's now-grown children, Philip and Mary, both as serious and sober as their parents were not, seem earnestly bent on marriage, which John and Jane consider a mistake. The two old lovers conspire against the two young lovers, and nothing turns out quite as expected.

Nothing, like the closely related Doting, is a book that is almost entirely composed in dialogue, since in these late novels nothing so interested Green as how words resist, twist, and expose our intentions; how they fail us, lead us on, make fools of us, and may, in spite of ourselves, even save us, at least for a time. Nothing spills over with the bizarre and delicious comedy and poetry of human incoherence.
Praise For Nothing…
"And in their sheer absurdity Nothing and Doting are two of the funniest novels ever written, bringing to an almost abstract essence the humor that had always been woven through Green's work." —Brooke Allen, The Atlantic

"Henry Green is an accomplished virtuoso, and he makes his upper-middle-class Londoners perform like figures in some highly stylized ritual dance of a dying culture. Nothing is a brilliant performance." —The Nation

"His sentences sometimes unwind in long, gossamer strands of prepositions and subordinate clauses, as tenuous as a spider's web. . . . For fellow writers who chafe against the limits of language, there's a special thrill in following Green across the page to see if his sentence will survive in one piece." —Danny Heitman, The Weekly Standard

"Nothing and Doting...actually display something close to old-fashioned formal perfection." —Charles McGrath, The New York Times Book Review 

"The sincere and almost religious conviction of the primacy of guilt in human relations is one of Green's most fruitful sources of inspiration, and he forcefully develops it in Doting and Nothing, his last, great, and dismally underrated novels." —The New Criterion
NYRB Classics, 9781681371436, 208pp.
Publication Date: October 17, 2017
About the Author
Henry Green (1905–1973) was the pen name of Henry Vincent Yorke. Born near Tewkesbury in Gloucestershire, England, he was educated at Eton and Oxford and went on to become the managing director of his family's engineering business, writing novels in his spare time. His first novel, Blindness (1926), was written while he was at Oxford. He married in 1929 and had one son, and during the Second World War served in the Auxiliary Fire Service. Between 1926 and 1952 he wrote nine novels—Blindness, Living, Party Going, Caught, Loving, Back, Concluding, Nothing, and Doting—and a memoir, Pack My Bag.

Francine Prose is a Distinguished Visiting Writer at Bard College. She is the author of more than twenty books of fiction and non-fiction; her most recent novel is Mister Monkey.