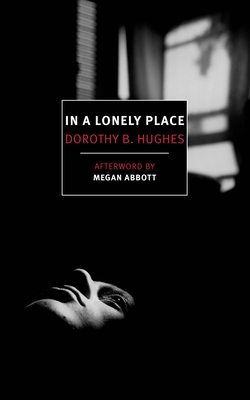 In a Lonely Place
Paperback

* Individual store prices may vary.
Description
A classic California noir with a feminist twist, this prescient 1947 novel exposed misogyny in post-World War II American society, making it far ahead of its time.

Los Angeles in the late 1940s is a city of promise and prosperity, but not for former fighter pilot Dix Steele.  To his mind nothing has come close to matching "that feeling of power and exhilaration and freedom that came with loneness in the sky." He prowls the foggy city night—­bus stops and stretches of darkened beaches and movie houses just emptying out—seeking solitary young women. His funds are running out and his frustrations are growing. Where is the good life he was promised? Why does he always get a raw deal? Then he hooks up with his old Air Corps buddy Brub, now working for the LAPD, who just happens to be on the trail of the strangler who's been terrorizing the women of the city for months...

Written with controlled elegance, Dorothy B. Hughes's tense novel is at once an early indictment of a truly toxic masculinity and a twisty page-turner with a surprisingly feminist resolution. A classic of golden age noir, In a Lonely Place also inspired Nicholas Ray's 1950 film of the same name, starring Humphrey Bogart.
Praise For In a Lonely Place…
"It's something of an axiom that good novels make bad movies.  But one of my favorite exceptions is In a Lonely Place....the novel is more groundbreaking than the film and that Hughes, who died in 1993, belongs in the crime-writing pantheon with male icons like Dashiell Hammett and Raymond Chandler….In a Lonely Place is a gripping story, but Hughes was too talented, ambitious, and grounded to play it merely for suspense….as Megan Abbott points out in her splendidly perceptive afterword, Hughes takes the gender clichés of noir and turns them on their head." —John Powers, NPR

"In a Lonely Place blasted my mind open to new ways of reading." —Sarah Weinman, Los Angeles Review of Books

"Crime was never Hughes's interest, evil was, and to be evil, for her, is to be intolerant of others...With her poetic powers of description, she makes that evil a sickness in the mind and a landscape to be surveyed." —Christine Smallwood, The New Yorker's Page-Turner Blog

"A tour de force laying open the mind and motives of a killer with extraordinary empathy. The structure is flawless, and the scenes of postwar LA have an immediacy that puts Chandler to shame. No wonder Hughes is the master we keep turning to."
—Sara Paretsky

"If you wake up in the middle of the night screaming with terror, don't say we didn't warn you." —The New York Times Book Review

"Bringing ...[Dorothy B. Hughes] back is no act of nostalgia. It is a gateway through which we might access her particular view of that road between our glittering versions of American life and the darker reality that waits at the end of the ride." —Walter Mosley
 
"This lady is the queen of noir, and In a Lonely Place is her crown."—Laurie R. King, author of the Mary Russell novels
 
"A superb novel by one of crime fiction's finest writers of psychological suspense. What a pleasure it is to see this tale in print once again!"—Marcia Muller, author of the Sharon McCone novels

"Lock your doors and windows before you start reading Dorothy B. Hughes superbly written In a Lonely Place, then prepare to lose some sleep. This spine-tingling classics rings chillingly true." —Jan Burke, author of the Irene Kelly series

"Dorothy B. Hughes was such a mistress of dark suspense that I always had to read the end of her books first to keep from biting off all my fingernails." —Margaret Maron, author of Three-Day Town

"In my rookie days Dorothy B. Hughes was the writer I most wanted to emulate. To me she had the sense of place and the narrative drive of Eric Ambler-tautened by a woman's edginess. To me she still imparts that delightful quiver." —Dorothy Salisbury Davis, author of In the Still of the Night

"Dorothy B. Hughes was in a class of her own. To be a female writer of hard-boiled fiction back in the 1940s was unusual enough, but to write a first-person narrative form the viewpoint of a male serial killer was breaking new ground by anybody's standards." —Max Déecharné author of Hardboiled Hollywood: The Origins of Great Crime Films

"In Hughes's novel, however, there is not a drop of romanticism, not a touch of fantasy. It is a dark, cold gem of a book, a gem without a flicker of heat or light. One that cuts to the touch." —Megan Abbott, author of Dare Me and The Fever

"Hughes was a wonderful writer. There is nothing overdone with her dialog and descriptions. Dix moving through the night, stalking his victims, is suspenseful and chilling but written quietly and creating an atmosphere that makes the reader feel the night and fog about them as they read." —Mack Captures Crime blog

"Dorothy B. Hughes writes literary hardboiled noir taking on and matching Chandler, Hammett, Cain and Thompson at their game." —Rob Kitchlin, author of The White Gallows

"A fascinating example of a genre novel where the author is doing what she needs to do to be a part of the genre while totally turning genre tropes upside down. . . [In a Lonely Place] is a refusal to turn [characters] into classic femme fatales. . . Exhilarating." —Backlisted Podcast
NYRB Classics, 9781681371474, 224pp.
Publication Date: August 15, 2017
About the Author
Dorothy B. Hughes (1904–1993) was born Dorothy Belle Flanagan in Kansas City, Missouri. She received a bachelor's degree in journalism from the University of Missouri and worked as a reporter before attending graduate school at the University of New Mexico and Columbia University. In 1931 her collection of poetry, Dark Certainty, was selected for inclusion in the Yale Series of Younger Poets. She was married in 1932 and would not publish her next book, the hard-boiled novel The So Blue Marble, until 1940. Between 1940 and 1952 Hughes published twelve more novels, including The Cross-Eyed Bear and Ride the Pink Horse. For four decades she was the crime-fiction reviewer for The Albuquerque Tribune, earning an Edgar Award for Outstanding Mystery Criticism from the Mystery Writers of America in 1951. The Expendable Man, published in 1963, was her last novel. "I simply hadn't the tranquility required to write" and care for a family, she later said. In 1978, however, she published The Case of the Real Perry Mason, a critical biography of Erle Stanley Gardner, and that same year she was recognized as a Grand Master by the Mystery Writers of America.

Megan Abbott is the author of eight novels, including The Fever, You Will Know Me, and the Edgar Award–winning Queenpin. She is also the author of The Street Was Mine, a study of hard-boiled fiction and film noir and the editor of A Hell of a Woman, a female crime fiction anthology. She received a Ph.D. in literature from New York University.
Coverage from NPR