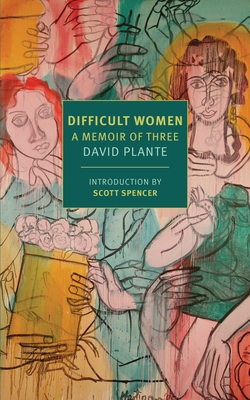 Difficult Women
A Memoir of Three
Paperback

* Individual store prices may vary.
Description
David Plante's dazzling portraits of three influential women in the literary world, now back in print for the first time in decades.

Difficult Women presents portraits of three extraordinary, complicated, and, yes, difficult women, while also raising intriguing and, in their own way, difficult questions about the character and motivations of the keenly and often cruelly observant portraitist himself. The book begins with David Plante's portrait of Jean Rhys in her old age, when the publication of The Wide Sargasso Sea, after years of silence that had made Rhys's great novels of the 1920s and '30s as good as unknown, had at last gained genuine recognition for her. Rhys, however, can hardly be said to be enjoying her new fame. A terminal alcoholic, she curses and staggers and rants like King Lear on the heath in the hotel room that she has made her home, while Plante looks impassively on. Sonia Orwell is his second subject, a suave exploiter and hapless victim of her beauty and social prowess, while the unflappable, brilliant, and impossibly opinionated Germaine Greer sails through the final pages, ever ready to set the world, and any erring companion, right.
Praise For Difficult Women: A Memoir of Three…
"Difficult Women is creepy, it is cruel, it is morally indefensible — and it is exhilarating….There may be no defending these heartless portrayals, but there's also no denying their power. Each scene is expertly staged, and burns with the same dark excitement you find in Mary Gaitskill's fiction or Harold Pinter's plays, the feeling that these characters have sought one another out to exercise hidden fears and desires, to expose primal wounds. " —Parul Sehgal, The New York Times

"A delicious sequence of character sketches, interrupted by the occasional self-interrogatory aside....the book succeeds because the women are so horribly alive." —Christine Smallwood, Harper's 

"Like its three subjects, Difficult Women is consistently interesting. It's as if Mr. Plante were staring out over a wild and rugged topography of femaleness and wondering how one lives in such a land. It's a good question and a good book." —Anatole Broyard, The New York Times

"The memoir of Jean Rhys . . . is a remarkable achievement. . . . Plante never forgot who Jean Rhys really was and what made her valuable, so that while he captures neatly the shabby dishevelment of the narcissistic girlwoman fallen into confused old age, he also achieves full recognition for the writer whose eloquence and maturity are endlessly redeeming. . . . [Plante] brings these extremely interesting women to brilliant, mythic life." —Vivian Gornick

"[Plante's] best book to date is Difficult Women, an unflattering account of his friendship with Sonia Orwell, Jean Rhys and Germaine Greer. He...tells it pretty much like it was—and like he was, you imagine." —London Review of Books
NYRB Classics, 9781681371498, 208pp.
Publication Date: September 26, 2017
About the Author
David Plante is the author of several novels, including his lauded Francoeur Trilogy —The Family, The Country, and The Woods. He has also written several works of nonfiction in addition to Difficult Women, most recently The Pure Lover, Becoming a Londoner, and Worlds Apart.

Scott Spencer has written eleven novels, including Endless Love, Walking the Dead, and the forthcoming River Under the Road. He has also written journalism for The New York Times, The New Yorker, Harper's Magazine, GQ, and Rolling Stone. He lives in upstate New York.
or
Not Currently Available for Direct Purchase