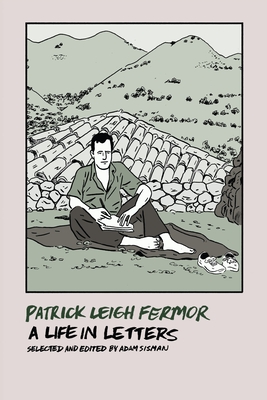 Patrick Leigh Fermor
A Life in Letters
Paperback

* Individual store prices may vary.
Description
The first extensive collection of letters written by war hero and travel writing legend Patrick Leigh Fermor.

Handsome, spirited, and erudite, Patrick Leigh Fermor was a war hero and one of the greatest travel writers of his generation. He was also a wonderful friend.

The letters in this collection span almost seventy years, the first written ten days before Paddy's twenty-fifth birthday, the last when he was ninety-four, and the correspondents include Deborah Devonshire, Nancy Mitford, Lawrence Durrell, Diana Cooper, and his lifelong companion, Joan Rayner. The letters exhibit many of Fermor's most engaging characteristics: his lust for life, his unending curiosity, his lyrical descriptive powers, his love of language, his exuberance, and his tendency to get into scrapes—particularly when drinking and, quite separately, driving.

Here are plenty of extraordinary stories: the hunt for Byron's slippers in one of the remotest regions of Greece; an ignominious dismissal from Somerset Maugham's Villa Mauresque; and hiding behind a bush to dub Dirk Bogarde into Greek during the shooting of Ill Met by Moonlight. The letters radiate warmth and gaiety; many are enhanced with witty illustrations and comic verse, while others contain riddles and puns. Every one of them entertains.
Praise For Patrick Leigh Fermor: A Life in Letters…
"To call Patrick Leigh Fermor just a travel writer is like calling Fred Astaire just a tap dancer; the description says nothing about the talent. His best-known book, A Time of Gifts, an account of his trip by foot through Europe from 1933 to 1934, published in 1977, glitters with acuity and wit. No wonder his letters are such gems to read, and in Patrick Leigh Fermor: A Life in Letters editor Adam Sisman does justice to a man who, right up until he died, at 96 in 2011, spun literature from his own adventurous life." —Jim Kelly, Vanity Fair

"Called Paddy by his legion of friends, Patrick Leigh Fermor struck many as a paragon of zest, a man on whom scarcely a crumb of life's banquet was wasted. Prodigiously smart, charming, funny and handsome as well, he dazzled most who met him…. For all their beau monde glitter, Leigh Fermor's letters are touching in a universally appreciable way." —Ben Downing, Wall Street Journal

"If letters are a lost art, you wouldn't know it from reading this lively collection… Fans of Fermor's travelogues will recognize incidents, and readers new to him will find this a good introduction. Recounting triumph and tragedy, these letters help round out a portrait of a writer who had long ago reconciled himself to a minor role in literary history—but who deserves a wide readership all the same." —Kirkus Reviews

"Few people have lived as peripatetic a life as did travel writer Fermor. Even leaving aside the adventures that made his reputation—his walk from Holland to Istanbul and his activities during WWII as a resistance leader in Nazi-occupied Crete—he spent most of his life flitting from place to place….Through it all, he maintained a voluminous correspondence with a veritable who's who of famous friends, including Diana Cooper, Lawrence Durrell, and Ann Fleming. His letters have a breezy, insouciant quality that's charming….Above all, Fermor had a brilliant knack for capturing vivid details." —Publishers Weekly

"Zestful, vivid, and buoyant with polymathic learning, Leigh Fermor's letters reveal themselves perfect for anthology. There are descriptions and anecdotes equal to anything in his writing, spurred by memorable friendships, suffused with affection and occasional distress: all finely edited by Adam Sisman." —Colin Thubron
 
"Hugely entertaining, funny and occasionally moving...edited meticulously and brilliantly." —The Observer
 
"Zest, verbal finesse, almost pristine receptivity and a richly informed cultural and historical consciousness make these letters, even when the erosions of time and illness shadow them, irresistibly exhilarating." —The Sunday Times
 
"Adam Sisman is a model editor.... Reading these letters is like gobbling down a tray of exotically filled chocolates, with no horrible orange creams to put you off." —Harry Mount, Literary Review

"Adam Sisman's selection of Patrick Leigh Fermor's letters is entirely admirable . . . an unmissable feast." —Daily Telegraph

"Here is a veritable feast for fans of Paddy Leigh Fermor . . . Sisman has done a tremendous job selecting and editing this treasure-trove of letters." —Justin Marozzi, The Spectator

"Superb . . . Adam Sisman has done an excellent job of selecting and editing these letters, almost any one of which would have been a joy to receive." —Times Literary Supplement

"This is one of those books that make you feel a little bereft when you finish it." —Catholic Herald

"To read these letters and their superb footnotes is to walk with some of the great ghosts of twentieth-century literature." —Oldie

"Oh joy! The wit, the humour, and the dazzling intelligence make this, for me, the most
unputdownable book of the year." —Country Life
New York Review Books, 9781681371566, 512pp.
Publication Date: November 14, 2017
About the Author
Patrick Leigh Fermor (1915–2011) was an intrepid traveler, a heroic soldier, and a celebrated writer. He was awarded the Distinguished Service Order and the Order of the British Empire, and was knighted for his services to literature and British- Greek relations. NYRB Classics and New York Review Books publish several of his works of travel writing, including A Time of Gifts, Between the Woods and Water, The Broken Road, The Traveller's Tree, A Time to Keep Silence, Mani: Travels in the Southern Peloponnese, and Roumeli: Travels in Northern Greece, as well as his memoir, Abducting a General.

Adam Sisman is the author of several biographies, most recently of John le Carré. His Boswell's Presumptuous Task won the prestigious National Book Critics Circle Award for Biography. He is an Honorary Fellow of the University of St. Andrews.