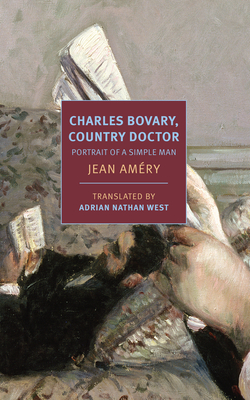 Charles Bovary, Country Doctor
Portrait of a Simple Man
Paperback

* Individual store prices may vary.
Description
Fans of Flaubert's Madame Bovary will want to read this reimagination of one of literature's most famous failures, Charles Bovary. Part fiction, part philosophy, Charles Bovary, Country Doctor is also a book about love.

Charles Bovary, Country Doctor is one of the most unusual projects in twentieth-century literature: a novel-essay devoted to salvaging poor bungler Charles Bovary, the pathetic, laughable, cuckolded husband of Madame Bovary and the heartless creation of Gustave Flaubert. As a once-promising novelist who was tortured by the Nazis and survived a year in Auschwitz, author Jean Améry had a particular sympathy for the lived experience of vulnerability, affliction, and suffering, and in this book—available in English for the first time—he asserts the moral claims of Dr. Bovary. What results is a moving paean to the humanity of Charles Bovary and to the supreme value of love.
Praise For Charles Bovary, Country Doctor: Portrait of a Simple Man…
"How lucky we are that this essay-novel of Jean Améry's, circling around Flaubert's tragically uxorious country doctor, poor dim Charles with his beating heart and ugly hat, is available to English readers now in a nimble translation by Adrian Nathan West. In his half-fictional monologue, half-philosophical tract, Améry interrogates literature and realism through his obsession with this side character in not just a novel but the novel. A meditation on failure and the loser to rival Thomas Bernhard's." —Kate Zambreno

"Améry's book, nimbly translated from the German by Adrian Nathan West, is a defense of both Charles Bovary and of the qualities that Flaubert is so keen to ridicule: moderation, decency, responsibility…there's a satisfying feeling of delayed justice in this brief, thought-provoking book. All of us, fools that we are, should have such eloquent advocates." —Sam Sacks, The Wall Street Journal

"This strange but compelling book is at once a passionate critique and courageous reimagining of Gustave Flaubert's masterpiece of psychological realism, Madame Bovary...Améry's efforts to imaginatively inhabit Flaubert's sensibility, and the resulting critique of his mean-spirited representation of Charles, make for fascinating reading...Améry's daringly imaginative and moving book is a provocation to rethink much of what we thought we knew about one of the most important and widely discussed works of European literature." —Doug Battersby, Financial Times

"This is the first English translation of the work, which follows in the tradition of Jean Rhys' Wide Sargasso Sea and John Gardner's Grendel, stand-alone novels—not prequels or sequels—approaching a prior tale from a point of view more sympathetic to a major character than that taken in the original...readers will appreciate Améry's valiant efforts to rehabilitate Charles Bovary and his conventional cohort in a work which is difficult to categorize and even harder to forget." —Kirkus Reviews
NYRB Classics, 9781681372501, 176pp.
Publication Date: September 4, 2018
About the Author
Jean Améry (1912–1978) was born Hans Meier in Vienna, Austria. He was a philosophy and literature student in Vienna and participated in the resistance against the Nazi occupation of Belgium. He was detained and imprisoned for several years in concentration camps, surviving Auschwitz and Buchenwald and finally Bergen-Belsen, until he was liberated in 1945. He settled in Belgium after the war and wrote several renowned works, including At the Mind's Limits: Contemplations by a Survivor on Auschwitz and Its Realities (1966), On Aging (1968), and On Suicide: A Discourse on Voluntary Death (1976).

Adrian Nathan West is a literary translator and author of The Aesthetics of Degradation. His translations include Pere Gimferrer's Fortuny, Rainald Goetz's Insane, and Juan Benet's Construction of the Tower of Babel. His criticism has appeared in The London Review of Books, The Times Literary Supplement, The New York Review of Books, and many other journals in print and online.
or
Not Currently Available for Direct Purchase