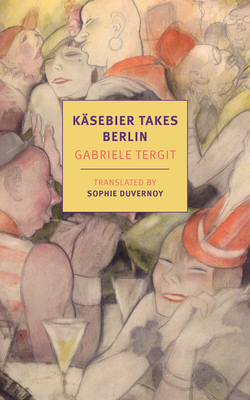 Käsebier Takes Berlin (Paperback)
NYRB Classics, 9781681372723, 304pp.
Publication Date: July 30, 2019
* Individual store prices may vary.
Description
In English for the first time, a panoramic satire about the star-making machine, set in celebrity-obsessed Weimar Berlin.

In Berlin, 1930, the name Käsebier is on everyone's lips. A literal combination of the German words for "cheese" and "beer," it's an unglamorous name for an unglamorous man—a small-time crooner who performs nightly on a shabby stage for laborers, secretaries, and shopkeepers. Until the press shows up.

In the blink of an eye, this everyman is made a star: a star who can sing songs for a troubled time. Margot Weissmann, the arts patron, hosts champagne breakfasts for Käsebier; Muschler the banker builds a theater in his honor; Willi Frächter, a parvenu writer, makes a mint off Käsebier-themed business ventures and books. All the while, the journalists who catapulted Käsebier to fame watch the monstrous media machine churn in amazement—and are aghast at the demons they have unleashed.

In Käsebier Takes Berlin, the journalist Gabriele Tergit wrote a searing satire of the excesses and follies of the Weimar Republic. Chronicling a country on the brink of fascism and a press on the edge of collapse, Tergit's novel caused a sensation when it was published in 1931. As witty as Kurt Tucholsky and as trenchant as Karl Kraus, Tergit portrays a world too entranced by fireworks to notice its smoldering edges.
About the Author
Gabriele Tergit (1894–1982) was a novelist and journalist, known initially for her courtroom reporting. After gaining fame for Käsebier Takes Berlin, her writing career was cut short when the Nazis rose to power in 1933. She immediately fled to Czechoslovakia, then Palestine, and finally London. After the war, her work was largely forgotten by the public, but she continued to work on behalf of other authors as the honorary secretary of the London PEN Centre of expatriate German-speaking authors.

Sophie Duvernoy has translated work by Sibylle Berg, Sabine Rennefanz, and Zora del Buono, and has written for the Los Angeles Review of Books, Thomson Reuters, and other publications. She is the winner of the 2015 Gutekunst Prize for young translators and is currently pursuing a PhD at Yale University.
Praise For Käsebier Takes Berlin…
"Portraying a society declining into fascism, the novel resounds with hollow laughter and is crisp throughout, but the journalistic sections feel most alive. These tableaus, which blend absurdism and poignancy, match the comic invention of classics like Michael Frayn's Towards the End of the Morning and Evelyn Waugh's Scoop." —Publishers Weekly


"A star is born, Weimar-style, in this German novel originally published in 1931....Tergit's novel deserves a place alongside Döblin's Berlin Alexanderplatz, Canetti's Auto-da-Fé, and other key works of the period." —Kirkus