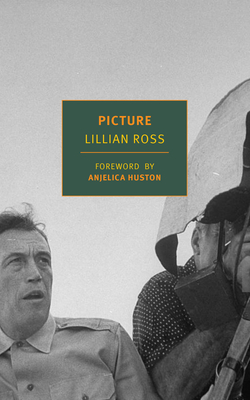 Picture
Paperback

* Individual store prices may vary.
Other Editions of This Title:
Paperback (6/1/2002)
Description
A classic look at Hollywood and the American film industry by The New Yorker's Lillian Ross, and named one of the "Top 100 Works of U.S. Journalism of the Twentieth Century."

Lillian Ross worked at The New Yorker for more than half a century, and might be described not only as an outstanding practitioner of modern long-form journalism but also as one of its inventors. Picture, originally published in 1952, is her most celebrated piece of reportage, a closely observed and completely absorbing story of how studio politics and misguided commercialism turn a promising movie into an all-around disaster. The charismatic and hard-bitten director and actor John Huston is at the center of the book, determined to make Stephen Crane's The Red Badge of Courage—one of the great and defining works of American literature, the first modern war novel, a book whose vivid imagistic style invites the description of cinematic—into a movie that is worthy of it. At first all goes well, as Huston shoots and puts together a two-hour film that is, he feels, the best he's ever made. Then the studio bosses step in and the audience previews begin, conferences are held, and the movie is taken out of Huston's hands, cut down by a third, and finally released—with results that please no one and certainly not the public: It was an expensive flop. In Picture, which Charlie Chaplin aptly described as "brilliant and sagacious," Ross is a gadfly on the wall taking note of the operations of a system designed to crank out mediocrity.
Praise For Picture…
"Picture is a dazzling realist confection … [T]he dialogue is perfect, with pace and tension steady … Picture tells the truth as the writer found it to be, and, by steady accumulation and good writing, we see all the things about the movie business that lie beyond publicity." —Andrew O'Hagan, London Review of Books

"Ross, in her reporting, does what novelists of the first order do in their fiction: she brings abstractions to life, she catches and depicts the passions that motivate people to reach high, to plot deftly, to compromise, to take foolish risks or hedge their bets. Yet, no less than in her exemplary Profile of Hemingway, Ross also explores the inner life of an artist, in an attempt to illuminate the mysteries of the art itself." —Richard Brody, The New Yorker

"Here is probably the most authentic documentation ever done on the making of a Hollywood motion picture and it is presented with such brilliance, fidelity to detail, and characterization that it reads like an exciting novel." —Chicago Tribune

"Picture presents Hollywood's more heroic attitudes as well as its more foolish and familiar ones. Never blind to Hollywood's persistent creative effort, it is sharply observant of the business mechanism that blunts the points of some of the industry's sharper talents. It plays back with an unfailing ear some of the wise things that are said in that keyed-up, pent-up industrial town, as well as the wise-cracking, the bathetic and banal." —Budd Schulberg, The New York Times 
NYRB Classics, 9781681373157, 272pp.
Publication Date: April 30, 2019
About the Author
Lillian Ross (1918–2017), born Lillian Rosovsky, grew up in Syracuse and Brooklyn, New York. In 1945, she joined The New Yorker and was a staff writer there for seven decades. She was the author of eleven books, including Portrait of Hemingway, Vertical and Horizontal, Reporting,The Player, Here But Not Here, and Reporting Back: Notes on Journalism. She spent much of her life with the journalist and editor William Shawn. Her work is considered to be a major influence in the field of literary journalism. 
 
Angelica Hustonis an actress and director. Born in Santa Monica, California, she is the daughter of John Huston and the ballerina Enrica Soma. Huston began acting in the late 1960s, taking small roles in her father's films, and in 1985 won the Best Supporting Actress Oscar for her performance in Prizzi's Honor. She went on to have roles in numerous films, including The Addams Family, Ever After: A Cinderella Story, and The Royal Tenenbaums. Huston's directorial debut was Bastard Out of Carolina in 1996, followed by Agnes Browne and Riding the Bus with My Sister.