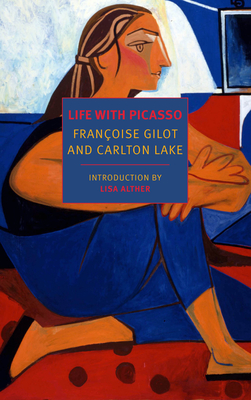 Life with Picasso
Paperback

* Individual store prices may vary.
Other Editions of This Title:
Paperback (11/10/2018)
Paperback (10/15/2018)
Hardcover (11/10/2018)
Hardcover (8/8/2015)
Hardcover (10/15/2018)
Description
Françoise Gilot's candid memoir remains the most revealing portrait of Picasso written, and gives fascinating insight into the intense and creative life shared by two modern artists.

Françoise Gilot was in her early twenties when she met the sixty-one-year-old Pablo Picasso in 1943. Brought up in a well-to-do upper-middle-class family, who had sent her to Cambridge and the Sorbonne and hoped that she would go into law, the young woman defied their wishes and set her sights on being an artist. Her introduction to Picasso led to a friendship, a love affair, and a relationship of ten years, during which Gilot gave birth to Picasso's two children, Paloma and Claude. Gilot was one of Picasso's muses; she was also very much her own woman, determined to make herself into the remarkable painter she did indeed become.

Life with Picasso is an indispensable record of his thinking about art, as well as an often very funny account of his relationships with other artists and with dealers and hangers-on.  It is also about Françoise Gilot. This is a brilliant self-portrait of a young woman of enormous talent and exacting intelligence figuring out who she wants to be.
Praise For Life with Picasso…
"[A] completely fascinating volume, one of the most illuminating we have had on the mind and spirit of Picasso." —Irving Stone, The Los Angeles Times

"[Life with Picasso is] a thorough picture of Picasso's life in the postwar period, at the moment he became a monument . . . More telling, though, is what we learn about Gilot, who came from a rich Parisian family and entered Picasso's life with the intensity of a 'little Rimbaud'. She was restless, spirited and determined not to become another of Picasso's 'grains of dust', those women she watched 'floating in the sunlight' all around him, waiting to be pushed out of his life with the swish of a broom." —Lili Owen Rowlands, The London Review of Books

"[N]ot only a vivid account of her life with [Picasso] but an intimate panorama of life in Paris during and after the German occupation, a Paris populated by Georges Braque, Henri Matisse, Alberto Giacometti, and Gertrude Stein." —Wendy Goodman, New York Magazine

"Françoise Gilot's gift of total recall seems scarcely human, but in her account of the ten years she spent with Picasso . . . everything he said to her about his work rings true even in English." —Robert Melville, New Statesman 

"Fascinating and brilliant, and crucial to the understanding of Picasso." —John Richardson, author of A Life of Picasso
 
"A valuable interior view of a genius on the hearth." —The Observer 
 
"Although there is much anguish to be found . . . there are also moments of tenderness and elation, forming what must be one of the most agonizingly honest and one of the most touching accounts of the life of a painter in the history of art." —Jean Boggs, The Art Bulletin 
 
"What it is like actually to live with the most publicized artist in history—as chauffeur, secretary, pupil, companion, mother, lover, and ex-lover—is now told for the first time." —Selden Rodman, Saturday Review 
 
"The portrait of Picasso that emerges . . . has a monumentality, a richness and diversity and intensity of being that could have been captured only by a woman of uncommon gifts." —Paul Pickrel, Harper's Magazine 

"She is a superb witness to Picasso as an artist and to his views on art. . . . Picasso's intentions, his way of working and his fearless invention are brilliantly revealed." —Aline Saarinen, The New York Times Book Review 
 
"Astonishing, crowded, intimate . . . a biographer of true Boswellian blood . . . a convincing portrait, painted with knowledge that comes only from absolute intimacy, of a fascinating monster, a geyser of energy, a complex character. . . . We are shown pictures of Malraux, Cocteau, Matisse, Hemingway . . . Gertrude Stein, Braque, Paul Éluard, Giacometti, Gide, Aragon, Chagall, Leger, Chaplin. . . . The reader feels that he is in Picasso's studio, and at times even in Picasso's mind." —Clifton Fadiman, Book-of-the-Month Club News 

"[The] world owes Miss Gilot a tremendous debt, as well as a salute for what can only be described as a sensational ability to report and comprehend." —Emily Genauer, New York Herald Tribune 
NYRB Classics, 9781681373195, 384pp.
Publication Date: June 11, 2019
About the Author
Françoise Gilot is a French painter, critic, and writer. Born in Neuilly-sur-Seine, France, she began writing and painting at a young age. In 1938, she graduated from the Sorbonne with a BA in philosophy and in 1939 from Cambridge University with a degree in English. In 1943, when Gilot was twenty-one, she met Pablo Picasso, who was sixty-one, and theyhad two children, Claude and Paloma. Their relationship lasted ten years, and Gilot published the bestselling Life with Picasso eleven years after their separation. In 1970, she married Jonas Salk, who pioneered the polio vaccine, and they remained married until his death in 1995. Gilot lives in Paris and New York, works on behalf of the Salk Institute in California, and continues to exhibit her work internationally. 
 
Carlton Lake (1915–2006) was an art critic and collector, and the Paris art critic for The Christian Science Monitor. He contributed essays, short stories, and conversations with Matisse, Picasso, Chagall, Henry Moore, and Giacometti to several publications. He donated his vast collection of art—350,000 French literary materials—to the Harry Ransom Center at the University of Austin, where Lake was once the director and where the items can still be viewed today. 

Lisa Alther is the author of six novels, a memoir, a short story collection, and the book About Women: Conversations Between a Writer and a Painter, co-authored with Françoise Gilot. She lives in Hinesburg, Vermont.