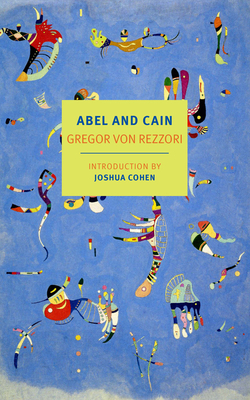 Abel and Cain
Paperback

* Individual store prices may vary.
Description
Appearing together in English for the first time, two masterpieces that take on the jazz age, the Nuremburg trials, postwar commercialism, and the feat of writing a book, presented in one brilliant volume

The Death of My Brother Abel and its delirious sequel, Cain, constitute the magnum opus of Gregor von Rezzori's prodigious career, the most ambitious, extravagant, outrageous, and deeply considered achievement of this wildly original and never less than provocative master of the novel. In Abel and Cain, the original book, long out of print, is reissued in a fully revised translation; Cain appears for the first time in English.

The Death of My Brother Abel zigzags across the middle of the twentieth century, from the 1918 to 1968, taking in the Jazz Age, the Anschluss, the Nuremberg trials, and postwar commercialism. At the center of the book is the unnamed narrator, holed up in a Paris hotel and writing a kind of novel, a collage of sardonic and passionate set pieces about love and work, sex and writing, families and nations, and human treachery and cruelty. In Cain, that narrator is revealed as Aristide Subics, or so at least it appears, since Subics' identity is as unstable as the fictional apparatus that contains him and the times he lived through. Questions abound: How can a man who lived in a time of lies know himself? And is it even possible to tell the story of an era of lies truthfully? Primarily set in the bombed-out, rubble- strewn Hamburg of the years just after the war, the dark confusion and deadly confrontation and of Cain and Abel, inseparable brothers, goes on.
Praise For Abel and Cain…
"If a great novel can be recognized by its obsessions, its characters and, above all, its tone, then The Death of My Brother Abel is unquestionably great. Rezzori addresses the major problems of our time, and his voice echoes with the disturbing and wonderful magic of the true storyteller...His is a turbulent, torrential story, full of passion, fire, regret, remorse-stained by anger toward the bourgeoisie, the changing times we live in—the proverbial Zeitgeist—and especially the Second World War and postwar profiteers. Rezzori's inspiration is fueled by a feverish nostalgia for the past and an even greater nostalgia for an improbable, if not impossible, future. This is no classical novel, not even a modern one; it is its own kind of book, a novel within a novel, or more precisely a number of novels within a novel....Like all true novels, The Death of My Brother Abel provides no answer. The book may come to us from another time, another universe; but we believe in it, and that is what matters." —Elie Wiesel, The Washington Post (1985)

"Any reader of European literature who has not read Gregor von Rezzori has committed the unthinkable. This is the rare writer who writes with unmatched beauty and skill while celebrating the joys of life." —Gary Shteyngart

"This volume resurrects the vanished high culture of Mann and Musil's Europe while also tackling the horrors of the war and its aftermath. These new translations breathe life into von Rezzori's ambitious and exhausting epic." —Publishers Weekly

"[The Death of My Brother Abel] is monumental in scope and unconventional in technique.... In his depiction of the postwar years, Mr. von Rezzori has given us one of the clearest pictures we have of those Germans who desire to forget the Nazi past, to consider yesterday 'only a rumor.'" —The New York Times

"This volume resurrects the vanished high culture of Mann and Musil's Europe while also tackling the horrors of the war and its aftermath. These new translations breathe life into von Rezzori's ambitious and exhausting epic." —Publishers Weekly

"Von Rezzori's book is episodic, with stories sometimes breaking off in the middle, always with an odd poetry that finds beauty even in the most terrible destruction. A challenging consideration of a murderous history by a knowing witness." —Kirkus Reviews

"There is a lively intelligence at work, along with a keen if dandified irony, and a justifiable despair." —Los Angeles Times, on The Death of My Brother Abel
 
"The reams of existential-anthropological-sociological-psychological brooding never get boring; mounted on the fabulous beasts of Rezzori's grotesquely inventive imagery, you are carried along like a child on an accelerating merry-go-round until your head spins and you feel exhilarated or sick; or both." —Gabriele Annan, The New York Review of Books 

"Gregor von Rezzori's novels...have won him many admirers and a reputation as a writer of brilliance and of the highest ambition. He has been likened by critics both here and in Europe to Mann, Grass, and Musil." —Bomb
 
"Lost worlds and cities emerge from under von Rezzori's pen, simultaneously beautifully remembered and richly imagined. Only the truly great writers can do that." —Aleksandar Hemon 

"[Rezzori] describe[s] with bitter hilarity the break-up of the Austro-Hungarian Empire and the rise of the Nazis. Those world-historical cataclysms are filtered through the miserable, manic consciousnesses of Rezzori's fictional alter-egos (sex-crazed, decayed aristocrats with bad jobs, guilt complexes, and PTSD). Rezzori's is 'a writerly talent that united in itself the qualities of Henry Miller with those of Dostoevsky,' as the narrator of his magnum opus, The Death of My Brother Abel, puts it." —Len Gutkin, The Chronicle of Higher Education
NYRB Classics, 9781681373256, 880pp.
Publication Date: June 4, 2019
About the Author
Gregor von Rezzori (1914–1998) was born in Czernowitz, Bukovina, then part of the Austro-Hungarian Empire. During World War II, he worked as a radio broadcaster in Berlin and published his first novel. From the late 1950s on, Rezzori had parts in several French and West German films. Among his best-known work is the Bukovina Trilogy—which includes Memoirs of an Anti-Semite, An Ermine in Czernopol, and the memoir The Snows of Yesteryear—all of which are published by NYRB Classics. 
 
David Dollenmayer has translated works by Rolf Bauerdick, Bertolt Brecht, Martin Walser, and many others. Dollenmayer translated Cain for Abel and Cain. 
 
Joachim Neugroschel (1938–2011) was a translator of French, German, Italian, Russian, and Yiddish literature. He also published poetry and translated and edited multiple anthologies of Yiddish literature. Neugroschel translated an earlier edition of My Brother Abel, which was then revised for NYRB Classics' Abel and Cain. He also translated Rezzori's Memoirs of an Anti-Semitefor NYRB Classics.
 
Marshall Yarborough is a translator of German literature and a writer. He has revised Joachim Neugroschel's original translation of My Brother Abelfor Abel and Cain.
 
Joshua Cohen is a novelist and short story writer. His works include the novels Witz and Book of Numbers.
or
Not Currently Available for Direct Purchase