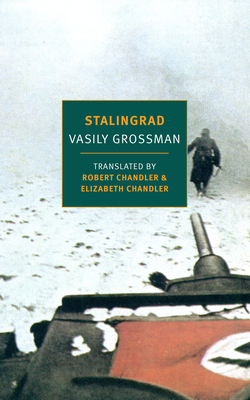 Stalingrad (Paperback)
NYRB Classics, 9781681373270, 1088pp.
Publication Date: June 11, 2019
* Individual store prices may vary.
Description
The prequel to Vasily Grossman's Life and Fate, the War and Peace of the 20th Century, now in English for the first time.

Vasily Grossman's Life and Fate has been hailed as a twentieth-century War and Peace. However, Life and Fate is only the second half of a two-part work, the first half of which was published in 1952. Grossman wanted to call this earlier work Stalingrad--as it will be in this first English translation--but it was published as For a Just Cause. The characters in both novels are largely the same and so is the story line; Life and Fate picks up where Stalingrad ends, in late September 1942. The first novel is in no way inferior to Life and Fate; the chapters about the Shaposhnikov family are both tender and witty, and the battle scenes are vivid and moving. One of the most memorable chapters of Life and Fate is the last letter written from a Jewish ghetto by Viktor Shtrum's mother--a powerful lament for East European Jewry. The words of this letter do not appear in Stalingrad, yet the letter's presence makes itself powerfully felt and it is mentioned many times. We learn who carries it across the front lines, who passes it on to whom, and how it eventually reaches Viktor. Grossman describes the difficulty Viktor experiences in reading it and his inability to talk about it even to his family. The absence of the letter itself is eloquent--as if its contents are too awful for anyone to take in.
About the Author
Vasily Grossman (1905-1964) worked as a reporter for the army newspaper Red Star during World War II. His vivid yet sober The Hell of Treblinka was translated and used as testimony in the Nuremberg trials. His novels Life and Fate and Everything Flows; a collection of stories, journalism, and essays, The Road; and a work of travel writing, An Armenian Sketchbook, are all published by NYRB Classics.
 

Robert Chandler has translated many NYRB Classics, including Vasily Grossman's Life and Fate, as well as Soul and The Foundation Pit by Andrey Platanov. He lives in London.

Elizabeth Chandler is a co-translator, with Robert Chandler, of several titles by Andrey Platonov and Vasily Grossman.
Praise For Stalingrad…
"An extraordinary novel by war correspondent Grossman, completing, with Life and Fate, a two-volume Soviet-era rejoinder to War and Peace...A classic of wartime literature finally available in a comprehensive English translation that will introduce new readers to a remarkable writer." —Kirkus starred review

"Grossman's epic, sprawling novel from 1952 is a masterpiece of intertwined plots that cascade together in a long sequence of militaristic horror… When the bombing of Stalingrad begins, Grossman cuts between viewpoints, rewinding time over and over again. A spectacular afterword details the extent of censorship the text suffered under Stalin. As a stand-alone novel, this is both gripping and enlightening, a tour de force. When considered as a whole with Life and Fate, this diptych is one of the landmark accomplishments of 20th-century literature."  —
Publishers Weekly starred review