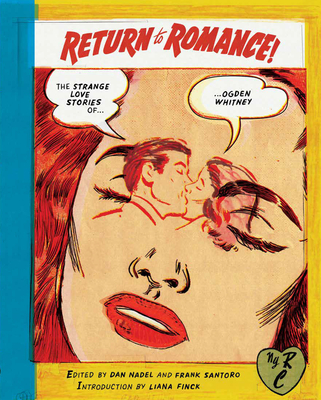 Return to Romance
The Strange Love Stories of Ogden Whitney
Paperback

* Individual store prices may vary.
Description
By turns amusing and disturbing, this collection of 1960s romance comic strips provides a provocative window into male-female power dynamics as conceived by one of mid-century America's foremost comic book artists.

Ogden Whitney was one of the unsung masters of American comics. He is perhaps best remembered for co-creating the satirical superhero Herbie Popnecker, also known as the Fat Fury, but his romance comics of the late 1950s and 1960s may be even more unique. In Whitney's hands, the standard formula of meet-cute, minor complications, and final blissful kiss becomes something very different: an unsettling vision of midcentury American romance as a devastating power struggle, a form of intimate psychological warfare dressed up in pearls and flannel suits. From suburban lawns and offices to rocket labs and factories, his men and women scheme and clash, dominate and escape. It is darkly hilarious, truly terrifying—and yes, occasionally even a bit romantic.
Praise For Return to Romance: The Strange Love Stories of Ogden Whitney…
"Ogden Whitney was one of those very unique artists who caught my attention with everything he did. Comedy or drama, I could always count on his natural style to take me on a pleasant ride." —Jaime Hernandez

"My hero." —Dan Clowes

"Whitney's take on the [romance] genre is not just strange for the sake of strangeness. Rather, it serves as a means of locating the depth of pain women suffer at the mercy of men who find seemingly countless ways to abuse them. . . . For Whitney, romance is about power, which is what it has been for every writer who has taken romance seriously."—Paul Morton, The Los Angeles Review of Books

"Ogden Whitney's comics are about everything I've ever been interested in reading about, from make-outs to makeovers. Which is to say, they're a little bit about men, but more importantly, they're about women. This collection is both significant and delicious." —Naomi Fry

"With just nine tales, Return to Romance doesn't wear out its welcome. For me, it did more than fulfill the sort of 'lost classics' reissue project that is New York Review Comics' mandate. It took a once popular, now defunct genre, and for 112 pages made me believe that one of its practitioners held all the secrets." —Ed Park, The New York Times Book Review

"New York Review Books' laudable project of reviving under-appreciated text and visual works of the last century hits a bullseye with this appreciation of Ogden Whitney. . . . Whitney's truly disturbing take on the genre surfaced sinister, psychologically dense power-struggles that motivated his lovers. All this was in stark contrast to the anodyne cartoon styles of the journeyman artists who illustrated them. Prepare to be unsettled." —Steve Smith, Folio's "Best Books for Print People 2019"

"[V]ery funny and savage and knowing. Daniel Clowes and Liana Finck . . . regard [Whitney] as something of a hero." —Rachel Cooke, The Guardian's "Best graphic novels of 2019"

"This reprinting stays true to the comics' original look and feel, in saturated colors on grainy, newsprint-effect paper . . . In his afterword, Nadel echoes [Finck's introduction] to remark on the psychological precision and refreshing directness of Whitney's storytelling, which is sure to ensnare new readers in this well-presented throwback volume." —Annie Bostrom, Booklist

"[Whitney] was a master of deadpan absurdity." —Drew Friedman, Print

"Unlike many artists from that era whose work is vivid but rushed, seeming almost primitive today, Whitney's aesthetic is basically timeless, with ultra clean lines and bright coloring drawing out the exceptional level of detail in his backgrounds." —The Cultural Gutter
New York Review Comics, 9781681373447, 112pp.
Publication Date: October 1, 2019
About the Author
Ogden Whitney (1918-1972) was a writer and comic book artist who was most active between the late 1930s and the late 1960s. He is best known for his cult hit Herbie comics series, a superhero satire about a fat boy with superpowers. He also drew crime, sci-fi, adventure, and Western-themed comics. In 2007, he was inducted into the Will Eisner Award Hall of Fame.

Dan Nadel is a writer, editor, and currator.He is the author and editor of several books, including The Collected Hairy Who Publications; Art Out of Time: Unknown Comic Visionaries, 1900-1969; Gary Panter; Art in Time: Unknown Comic Book Adventures, 1940-1980; and Dorothy and Otis: Designing the American Dream. Dan was the co-editor of The Comics Journal from 2011 through 2017, and has published essays and criticism in Art in America, the New York Review of Books, and Artforum. He lives in Brooklyn.

Frank Santoro is the author of Pompeii and Storyville. He taught drawing at Parsons School of Design and his comics have been exhibited at the American Academy of Arts and Letters in New York and at the Fumetto comics festival in Switzerland. Today, he runs a school for comic book makers. He lives in Pittsburgh.

Liana Finck is a cartoonist for The New Yorker and the author most recently of Passing for Human. She lives in Brooklyn.