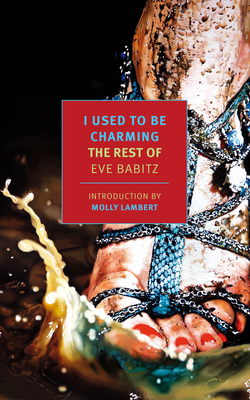 I Used to Be Charming (Paperback)
The Rest of Eve Babitz
NYRB Classics, 9781681373799, 448pp.
Publication Date: October 8, 2019
Other Editions of This Title:
Compact Disc (10/8/2019)
MP3 CD (10/8/2019)
* Individual store prices may vary.
Description
Previously uncollected nonfiction pieces by Hollywood's ultimate It Girl about everything from fashion to tango to Jim Morrison and Nicholas Cage.

Eve Babitz knew everyone, tried everything (at least once), and was never shy about sharing her thoughts on any subject, be it sex, weight loss, drug use, or her ambivalence toward New York City. From the 1970s through the 1990s, Babitz wrote on a wild variety of topics for some of the biggest publications around, from Esquire to Vogue to The New York Times Book Review. I Used to Be Charming brings together this nonfiction work. All previously uncollected, these pieces range from sharp personal essays on body image and the male gaze to playful meditations on everything from ballroom dancing to kissing to perfume. There are breathtaking celebrity profiles, too. In one, Nicolas Cage takes her for a ride in his '67 Stingray and in another she dishes about dragging Jim Morrison to bed before the Doors had even settled on a band name ("Jim was embarrassing because he wasn't cool, but I still loved him," she writes). In another essay, the author ponders her earliest days in the spotlight, posing nude with Marcel Duchamp, and in another, the never-before-published title essay, she writes about the tragic accident that compelled her to leave that spotlight behind forever.
About the Author
Eve Babitz is the author of several books of fiction, including Eve's Hollywood and Slow Days, Fast Company, both published by NYRB Classics. Her other nonfiction works include Fiorucci, the Book and Two by Two: Tango, Two-Step, and the L.A. Night. She has written for many publications, including Ms. And Esquire, and in the late 1960s designed album covers for the Byrds, Buffalo Springfield, and Linda Ronstadt.

Molly Lambert is a writer from and in Los Angeles. She has written for publications including The New York Times, The New Yorker, and GQ, and was a staff writer at the websites Grantland and MTV News. She hosts the podcast Molly's Sleazy Friends and co-hosts Night Call.

Sara J. Kramer is the managing editor of NYRB Classics.
Praise For I Used to Be Charming: The Rest of Eve Babitz…
"Zesty essays by a sly observer … [Babitz] gathers nearly 40 personal essays, book reviews, travel pieces, and celebrity profiles, published between 1976 and 1997, that give ebullient testimony to her colorful, star-studded past … A spirited, entertaining collection." —Kirkus

"A writer who's given a steep amount of pleasure over the past year. That writer is the Los Angeles–born glamour girl, bohemian, artist, muse, sensualist, wit and pioneering foodie Eve Babitz, whose prose reads like Nora Ephron's by way of Joan Didion, albeit with more lust and drugs and tequila." —Dwight Garner, The New York Times
 
"Eve is to prose what Chet Baker, with his light, airy style, lyrical but also rhythmic, detached but also sensuous, is to jazz, or what Larry Bell, with his glass confections, the lines so clean and fresh and buoyant, is to sculpture. She's a natural. Or gives every appearance of being one, her writing elevated yet slangy, bright, bouncy, cheerfully hedonistic—L.A. in its purest, most idealized form." —Lili Anolik, Vanity Fair
 
"If her books are any indication, she seems to have known more about life at an early age than most of us figure out before we die." —Holly Brubach, The New York Times
 
"One of the best writers about LA in American literature." —Laura Pearson, Chicago Tribune
 
"Her writing took multiple forms, from romans à clef to essayistic cultural commentaries to reviews to urban-life vignettes to short stories. But in the center was always Babitz and her sensibility—fun and hot and smart, a Henry James–loving party girl." —Naomi Fry, The New Republic