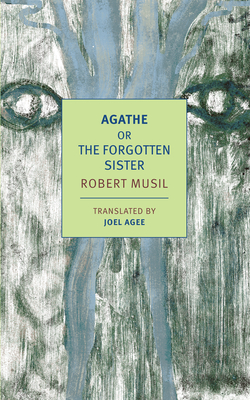 Agathe
Or, The Forgotten Sister
Paperback

* Individual store prices may vary.
Description
From the author of 'A Man without Qualities,' a novel about spirituality in the modern world.

Agathe is the sister of Ulrich, the restless and elusive "man without qualities" at the center of Robert Musil's great, unfinished novel of the same name. For years Agathe and Ulrich have ignored each other, but when brother and sister find themselves reunited over the bier of their dead father, they are electrified. Each is the other's spitting image, and Agathe, who has just separated from her husband, is even more defiant and inquiring than Ulrich. Beginning with a series of increasingly intense "holy conversations," the two gradually enlarge the boundaries of sexuality, sensuality, identity, and understanding in pursuit of a new, true form of being that they are seeking to discover.

Robert Musil's The Man Without Qualities is perhaps the most profoundly exploratory and unsettling masterpiece of twentieth-century fiction. Agathe, or, The Forgotten Sister reveals with new clarity a particular dimension of this multidimensional book—the dimension that meant the most to Musil himself and that inspired some of his most searching writing. The outstanding translator Joel Agee captures the acuity, audacity, and unsettling poetry of a book that is meant to be nothing short of life-changing.
Praise For Agathe: Or, The Forgotten Sister…
Shortlisted for the 2020 Helen & Kurt Wolff Translator's Prize

"Agathe represents a kind of concentrate of the quests and questions of its monumental source material: in it, as George Steiner once wrote about part three of the original novel, 'what was previous a kaleidoscope narrows to a laser'. . . . Musil's sentences are never less than elegant (a handsome precision reflected in Joel Agee's translation)." —Julian Evans, The Daily Telegraph

"In Agee's vividly contemporary and sensuous translation, Agathe zeroes in on a quasi-mystical adventure in living and loving." —Lisa Appignanesi, The New York Times Book Review

"[A] valuable addition to modernist European literature." —Kirkus

"Incredibly erotic." —BBC4's Saturday Sounds

"Musil's writing is so disciplined, his word choice so exact, that sentence follows sentence with a pointedness that seems to come naturally."—J.M. Coetzee, The New York Review of Books
 
"Musil, as much as Joyce, is an intensely personal and domestic bard, although all great writers can of course be seen, or can see themselves, as prophets of political doom, civilization's collapse."—John Bayley, The New York Review of Books

NYRB Classics, 9781681373836, 400pp.
Publication Date: December 17, 2019
About the Author
Robert Musil (1880–1942) is the author of The Confusions of Young Törless, Five Women, The Man Without Qualities, and The Posthumous Papers of a Living Author. His works were banned by the Nazis, and he and his Jewish wife went into exile during World War II. He died of a stroke in 1942.

Joel Agee is a writer and translator. He has received several prizes, including the Berlin Prize of the American Academy in Berlin in 2008 and the Helen and Kurt Wolff Prize for his translation of Heinrich von Kleist's verse play Penthesilea. He is the author of two memoirs--Twelve Years: An American Boyhood in East Germany and In the House of My Fear. His translation of Prometheus Bound was produced at the Getty Villa in 2013 and is published by NYRB Classics. He lives in Brooklyn, New York.