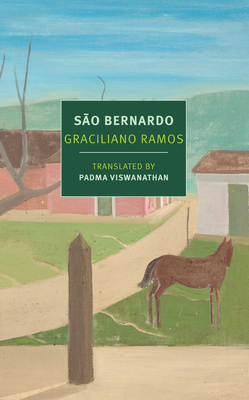 São Bernardo
Paperback

* Individual store prices may vary.
Description
A masterwork about backcountry life by one of Brazil's most celebrated novelists.

Paulo Honório is a sometime field hand who has kicked and clawed and schemed his way to prosperity, becoming master of the decrepit estate São Bernardo, where once upon a time he toiled. He is ruthless in his exploitation of his fellow man, but when he makes a match with a fine young woman, he is surprised to discover that this latest acquisition, as he sees it, may be somewhat harder to handle. It is in Paulo Honório's own rough-hewn voice that the great Brazilian writer Graciliano Ramos, often compared to William Faulkner, tells this gritty and dryly funny story of triumph and comeuppance, a tour de force of the writer's art that is beautifully captured in Padma Viswanathan's new translation.
Praise For São Bernardo…
Shortlisted for the UK Society of Authors' TA First Translation Prize

"The complexities of life in rural Brazil come sharply into focus in São Bernardo. Nearly a hundred years after its publication, the funny, ruthless narrator of this novel is as fascinating and relevant as any narrator being written today." —Idra Novey

"I was swept up by the humor, cadence, beautiful weirdness—and above all the voice, relentless and a little nuts, of São Bernardo." —Peter Orner

"Viswanathan, through her soulful translation, breathes new life into Ramos's slangy, unvarnished, beguilingly funny prose.  Honorio's voice might be gruff, but it also sings." —Eric Puchner

"If we were to take stock of Brazilian writers from the first half of the twentieth century—from among those writers who produced the most relevant parts of their oeuvre in the first half of the twentieth century—and ask which writer has had the greatest impact and influence on the way Brazilian writers write today, I have no doubt that the name of Graciliano Ramos would make the top of the list." —Paolo Scott, Asymptote

"This new translation of São Bernardo from the Brazilian Portuguese by Canadian writer Padma Viswanathan is as much a reiteration as it is a refashioning. . . . Viswanathan has made a precious contribution to the body of English-language literature, adding to it the vibrant voice of one [of] the most important figures of 20th-century Brazilian letters." —Arthur Ivan Bravo, The Los Angeles Review of Books

"Ribeyro . . . is mildly Borgesian in approach, both stylish and imaginative. . . . Ramos' metier . . . is a kind of gnarled subtlety and rueful wisdom that lends a quirky, canny element to his appealing story." —Paddy Kehoe, RTÉ

"Graciliano Ramos's São Bernardo is a quick read that grabbed me from the first paragraph. . . . Honório is a fascinating character, and Ramos beautifully renders him through Honório's own elisions and incapacity to articulate." —The Mookse and Gripes
NYRB Classics, 9781681373850, 192pp.
Publication Date: May 5, 2020
About the Author
Graciliano Ramos (1892–1953) was a writer, politician, and journalist. He spent most of his life in Palmeira dos Índios, in northeast Brazil, where he owned a general store and served as the mayor. In 1936, Ramos was arrested and imprisoned on a penal island. He was most likely suspected of being a Communist. After his release from prison, he published his most famous novel, Barren Lives.

Padma Viswanathan's debut novel, The Toss of a Lemon, has been published in eight countries and was a finalist for several prizes. Her second novel, The Ever After of Ashwin Rao, was a national bestseller in Canada and was short-listed for the Scotiabank Giller Prize. Her short fiction and nonfiction work has been published in several outlets, including Granta, the Boston Review, Elle (Canada), and Guernica. She teaches creative writing at the University of Arkansas.
or
Not Currently Available for Direct Purchase