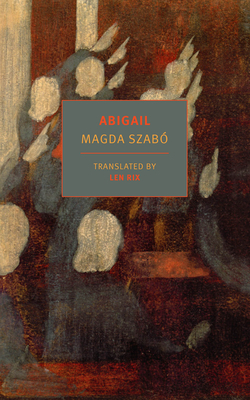 Abigail
Paperback

* Individual store prices may vary.
Description
From the author of The Door, a beloved coming-of-age tale set in WWII-era Hungary.


Abigail, the story of a headstrong teenager growing up during World War II, is the most beloved of Magda Szabó's books in her native Hungary. Gina is the only child of a general, a widower who has long been happy to spoil his bright and willful daughter. Gina is devastated when the general tells her that he must go away on a mission and that he will be sending her to boarding school in the country. She is even more aghast at the grim religious institution to which she soon finds herself consigned. She fights with her fellow students, she rebels against her teachers, finds herself completely ostracized, and runs away. Caught and brought back, there is nothing for Gina to do except entrust her fate to the legendary Abigail, as the classical statue of a woman with an urn that stands on the school's grounds has come to be called. If you're in trouble, it's said, leave a message with Abigail and help will be on the way. And for Gina, who is in much deeper trouble than she could possibly suspect, a life-changing adventure is only beginning.

There is something of Jane Austen in this story of the deceptiveness of appearances; fans of J.K. Rowling are sure to enjoy Szabó's picture of irreverent students, eccentric teachers, and boarding-school life. Above all, however, Abigail is a thrilling tale of suspense.
Praise For Abigail…
"The English edition of Abigail is as welcome as it is overdue. Len Rix's translation is deft, but Szabó's frank, conversational prose takes a back seat to her sinuous plotting: The novel unspools its secrets over many pages, and the resulting tour de force is taut with suspense. . . . Nothing could ruin a book so humane—but to resolve the novel's central mysteries, especially the enigma of Abigail's identity, would be to diminish some of its breathless urgency. To learn the truth, you must consult Abigail herself." —Becca Rothfeld, The New York Times Book Review

"A tense, intimate narrative that brilliantly depicts youthful innocence ensnared by lethal menace . . . Szabó the magician reveals, for an instant, time, history and human folly, all glimpsed through a child's clear eyes." —Anna Mundow, The Wall Street Journal

"[I]n Len Rix's superb translation, Abigail is a delightful page-turner. There's an air of enchantment about the school—the book takes its title from a statue that supposedly grants the students' wishes—and Gina begins to have adventures—some quite funny, others that bring tears to your eyes." —John Powers, NPR's Fresh Air

"This infectious coming-of-age novel from Szabó, released in 1970 and translated into English for the first time, is a rollicking delight. Gina Vitay, the headstrong, spoiled lead, is reminiscent of Jane Austen's Emma. . . . Szabó pairs the psychological insights reader will recognize from her novel The Door with action more akin to Harry Potter. Gina is one of Szabó's finest creations." —Publishers Weekly, starred review

"Sequestered at a boarding school during World War II, a rebellious teenager confronts secrets, lies, and danger. . . . Urgent moral questions underlie a captivating mystery." —Kirkus 
NYRB Classics, 9781681374031, 352pp.
Publication Date: January 21, 2020
About the Author
Magda Szabó (1917–2007) is considered one of Hungary's greatest novelists. Her prose, dramas, essays, and poetry have been published in forty-two countries and in 2003 she was awarded the Prix Femina Étranger for The Door. The NYRB Classics edition of The Door was selected as one of the New York Times 10 Best Books of 2015. NYRB Classics also publishes her novels Iza's Ballad and Katalin Street.

Len Rix is a poet, critic, and former literature professor. In 2006, he was awarded the Oxford-Weidenfeld Translation Prize for his translation of Magda Szabó's The Door.
Coverage from NPR