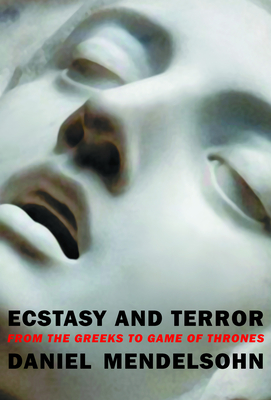 Ecstasy and Terror
From the Greeks to Game of Thrones
Paperback

* Individual store prices may vary.
Description
"The role of the critic," Daniel Mendelsohn writes, "is to mediate intelligently and stylishly between a work and its audience; to educate and edify in an engaging and, preferably, entertaining way." His latest collection exemplifies the range, depth, and erudition that have made him "required reading for anyone interested in dissecting culture" (The Daily Beast). In Ecstasy and Terror, Mendelsohn once again casts an eye at literature, film, television, and the personal essay, filtering his insights through his training as a scholar of classical antiquity in illuminating and sometimes surprising ways.

Many of these essays look with fresh eyes at our culture's Greek and Roman models: some find an arresting modernity in canonical works (Bacchae, the Aeneid), while others detect a "Greek DNA" in our responses to national traumas such as the Boston Marathon bombings and the assassination of JFK. There are pieces on contemporary literature, from the "aesthetics of victimhood" in Hanya Yanagihara's A Little Life to the uncomfortable mixture of art and autobiography in novels by Henry Roth, Ingmar Bergman, and Karl Ove Knausgård. Mendelsohn considers pop culture, too, in essays on the feminism of Game of Thrones and on recent films about artificial intelligence—a subject, he reminds us, that was already of interest to Homer.

This collection also brings together for the first time a number of the award-winning memoirist's personal essays, including his "critic's manifesto" and a touching reminiscence of his boyhood correspondence with the historical novelist Mary Renault, who inspired him to study the Classics.
Praise For Ecstasy and Terror: From the Greeks to Game of Thrones…
"One of the great critics of our time . . . revelatory." —Craig Taylor, The New York Times Book Review

"Mendelsohn, a classicist by training, may be criticism's answer to Michael Jordan; highbrow, lowbrow, antiquity, modernity, Sappho, 'Suits'—he can do all the moves, as these essays, sparkling with insight and erudition, show." —The New York Times Book Review

"The pieces in Ecstasy and Terror . . . range magnificently in topic to include Evelyn Waugh's Brideshead Revisited, the poetry of Sappho and Cavafy, the assassination of JFK, the Boston bombings, and Hanya [Yanagihara]'s A Little Life. [Daniel Mendelsohn's] work is a much-needed reminder that it is possible to be fair, thoughtful, and accurate while nevertheless offering a definitively positive or negative critique. It is a pleasure to think with him." —Vanity Fair
 
"A must-read in this age where expertise is so often airily dismissed . . . Lots of critics routinely make light references to Greek myth and literature, but in Mendelsohn's writing such connections mean something, they illuminate more . . . To read a signature Mendelsohn essay is to be educated and entertained, and, always, freshly aware of how much more there is to read and know." —Maureen Corrigan, NPR
 
"[A] master class in criticism, a rangy, perspicacious, occasionally spiky excursion into cultures both ancient and contemporary. His breadth of reference is characteristically formidable—'From the Greeks to Game of Thrones' (the book's subtitle), 'from Corneille to "The Crown"'—and put to good use. He knows that a well-chosen example, especially one that collapses traditional distinctions between high and popular culture, can be erudite, authoritative, even cool, all at once…To read Mendelsohn is to gain a synoptic view of a subject, whether it's the novels of Ingmar Bergman, 'the Sappho wars' or the unexpected relationship between robots and Homer." —Charles Arrowsmith, The Washington Post

"Daniel Mendelsohn is not only an incisive critic and elegant prose stylist but also a brilliant translator. . . . Even in his criticism, Mendelsohn brings a translator's sensibility to the texts, films and plays he approaches." —Donna Zuckerberg, The Times Literary Supplement

"Mendelsohn's points are always passionately argued. He strikes the perfect balance between learned and playful . . . One fascinating essay after another from one of America's best critics." —Kirkus, starred review

"Mendelsohn takes the classical costumes off figures like Virgil and Sappho and gives them a vivid urgency for the present moment . . . He writes about things so clearly they come to feel like some of the most important things you have ever been told." —Sebastian Barry
New York Review Books, 9781681374055, 384pp.
Publication Date: October 8, 2019
About the Author
Daniel Mendelsohn teaches at Bard and is Editor-at-Large at The New York Review of Books. His books include An Odyssey: A Father, a Son, and an Epic (2017); The Lost: A Search for Six of Six Million (2006); How Beautiful It Is and How Easily It Can Be Broken: Essays (2008), and, from New York Review Books, Waiting for the Barbarians: Essays from the Classics to Pop Culture (2012).
Coverage from NPR