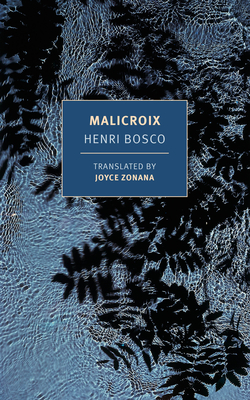 Malicroix
Paperback

* Individual store prices may vary.
Other Editions of This Title:
Paperback (6/1/1973)
Description
Fans of the style of William Faulkner will want to read Henri Bosco, four-time nominee for the Nobel Prize in Literature. Available in English for the first time, Malicroix tells the story of a recluse living in the French countryside, unraveling how he came to a life of solitude.

Henri Bosco, like his contemporary Jean Giono, is one of the regional masters of modern French literature, a writer who dwells above all on the grandeur, beauty, and ferocious unpredictability of the natural world. Malicroix, set in the early nineteenth century, is widely considered to be Bosco's greatest book. Here he invests a classic coming-of-age story with a wild, mythic glamour. 

A nice young man, of stolidly unimaginative, good bourgeois stock, is surprised to inherit a house on an island in the Rhône, in the famously desolate and untamed region of the Camargue. The terms of his great-uncle's will are even more surprising: the young man must take up solitary residence in the house for a full three months before he will be permitted to take possession of it. With only a taciturn shepherd and his dog for occasional company, he finds himself surrounded by the huge and turbulent river (always threatening to flood the island and surrounding countryside) and the wind, battering at his all-too-fragile house, shrieking from on high. And there is another condition of the will, a challenging task he must perform, even as others scheme to make his house their own. Only under threat can the young man come to terms with both his strange inheritance and himself.
Praise For Malicroix…
"[A] charming back-to-nature fantasia . . . even the strange blood feud bequeathed from Malicroix against a neighboring clan has a timeless, romantic quality." —Sam Sacks, The Wall Street Journal

"Readers partial to philosophical tangents will find much to enjoy here. . . . [A] work of tremendous lyricism." —Kirkus

"[A] gothic historical par excellence . . . Bosco's atmospheric investigation of the relationship between environment and mentality successfully merges haunted-house tropes and high modernism." —Publishers Weekly

"In this vast prose-poem . . . the author takes the time to show the harrowing of space in which the house is to live like an anguished heart. . . . The real drama of Malicroix is an ordeal by solitude." —Gaston Bachelard, The Poetics of Space

"[Malicroix is] about solitude, and the anticipation of salvation . . . Bosco's book is stranger than I'd anticipated. 'Islands favor the moon,' someone warns him as his residence on the island is about to begin. 'Dreams form over water, peopling it with unreal, captivating shapes; and if you dream too much, Sir, you will never leave this isle of magic.' I've read elsewhere that we're all having strange dreams at this moment; if for some reason you aren't, Malicroix approximates that experience." —Rumaan Alam, The New Republic's Critical Mass: Text Message

"The psychology of isolation, described with keenly observed interiority, fever dreams, and exalted, nearly animistic descriptions of nature are the highlights of these pages. . . . There is an almost mythical family curse at work on our narrator, but the real thrill of this book is the poetic power of the writer." —David Todd, Booktrib (Minneapolis Star Tribune)

"Bosco is sometimes thought of as kin to his near contemporary Jean Giono . . . [Malicroix] is both exciting and philosophical. The perfect book for a time when so many of us are thinking a lot about place." —Eiger, Mönch & Jungfrau

"Henri Bosco has done a masterful job of creating a sense of place . . . I loved this book, for the beautiful writing (and translation!) allowing me to contemplate the slow pace that we ourselves are now living . . . It is a time of seclusion that proves Martial's worth, as he must overcome severe adversity and his fears. . . . perhaps we, too, would be well-served to sit quietly by the fire, calmly reviewing our lives." —Dolce Bellezza

"Bosco sustains a feeling of eerie uncertainty. . . [Malicroix's] atmosphere . . . is of a sinister dream-fog." —M.A. Orthofer, The Complete Review
NYRB Classics, 9781681374109, 288pp.
Publication Date: April 7, 2020
About the Author
Henri Bosco (1888-1976) was a French writer who was nominated for the Nobel Prize in Literature four times. His family was of Provençal, Ligurian, and Piedmontese origin, and much of his work focused on Provençal life.

Joyce Zonana is a writer and literary translator. She is the author of a memoir, Dream Homes: From Cairo to Katrina, an Exile's Journey, and her writing has been published in Hudson Review, Signs, and Meridians, among other publications. She received an ALTA Emerging Translator Mentorship for her translation of Malicroix.
or
Not Currently Available for Direct Purchase