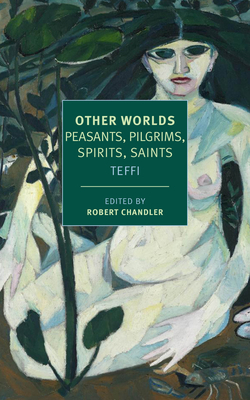 Other Worlds
Peasants, Pilgrims, Spirits, Saints
Paperback

* Individual store prices may vary.
Description
Stories about the occult, folk religions, superstition, and spiritual customs in Russia by one of the most essential twentieth-century writers of short fiction and essays.

Though best known for her comic and satirical sketches of pre-Revolutionary Russia, Teffi was a writer of great range and human sympathy. The stories on otherworldly themes in this collection are some of her finest and most profound, displaying the acute psychological sensitivity beneath her characteristic wit and surface brilliance.

Other Worlds presents stories from across the whole of Teffi's long career, from her early days as a literary celebrity in Moscow to her post-Revolutionary years as an émigré in Paris. In the early story "A Quiet Backwater," a laundress gives a long disquisition on the name days of the flora and fauna and on the Feast of the Holy Ghost, a day on which "no one dairnst disturb the earth." The story "Wild Evening" is about the fear of the unknown; "The Kind That Walk," a penetrating study of antisemitism and of xenophobia; and "Baba Yaga," about the archetypal Russian witch and her longing for wildness and freedom. Teffi traces the persistent influence of the ancient Slavic gods in superstitions and customs, and the deep connection of the supernatural to everyday life in the provinces. In "Volya," the autobiographical final story, the power and pain of Baba Yaga is Teffi's own.
Praise For Other Worlds: Peasants, Pilgrims, Spirits, Saints…
"Other Worlds is a magnificent edition of the works of a writer who deserves her seat at the top table of Russian authors, admittedly a crowded gathering." — Sara Wheeler, The Wall Street Journal Weekend.


"Teffi reimagines old Russian wonder tales with an inimitable blend of ingenuousness, slyness, and mischief. Poised between provoking fear and fascination, belief and disbelief, her stories give glimpses of uncanny sightings, weird figures, and shivery experiences that break into—and enliven—the humdrum daily round. This is a hugely enjoyable and surprising collection, and Teffi's lively and confiding voice can be heard rising from the page with irresistible immediacy." —Marina Warner

"With her enigmatic nom de plume, Teffi was an enigmatic person and remains a genuinely enigmatic writer: she discloses her mind—and, instead of diminishing, the enigma grows. . . . Conceived as a gathering of Teffi's stories featuring witches, shapeshifters, mermaids, vampires, and a host of minor spirits and deities of the Russian home and its surrounding natural landscape, [Other Worlds] stands as a masterwork of high non-reductive psychological realism worthy of Henry James, portraying a world we recognize to be very much our own, intimately familiar, inhabited, the one and only we have. (And those spirits and deities, I assure you, are entirely real, too.) . . . The translations gathered in this volume are a work of love that now makes those dreams a part of our own life."
—Anna Razumnaya, Los Angeles Review of Books
NYRB Classics, 9781681375397, 304pp.
Publication Date: April 20, 2021
About the Author
Teffi (1872–1952) was a popular writer in pre-Revolutionary Russia, a favorite of Tsar Nicholas II and Lenin alike. She was born to a prominent St. Petersburg family and emigrated from Bolshevik Russia in 1919. Eventually settling in Paris, she became an important figure in the émigré literary scene and lived there until her death. NYRB Classics publishes her memoir, Memories: From Moscow to the Black Sea, and the collection of stories Tolstoy, Rasputin, Others, and Me. 

Robert Chandler and Elizabeth Chandler have translated many NYRB Classics.