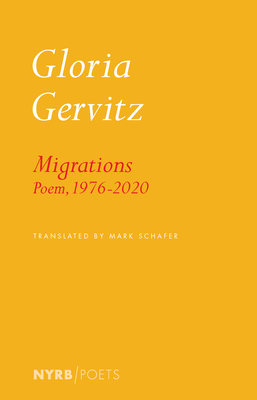 Migrations
Poem, 1976-2020
Paperback

* Individual store prices may vary.
Description
An epic, single-poem tribute to the spirit of women, this is the first complete and final translation of the great Mexican poet's magnum opus.

Forty-four years in the making, Migrations is considered by critics to be a masterpiece of modern Mexican literature. Gloria Gervitz's book, winner of the 2019 Pablo Neruda Ibero-American Poetry Prize, is an epic journey in free verse through the individual and collective memories of Jewish women emigrants from Eastern Europe, a conversation that ranges across two thousand years of poetry, a bridge that spans the oracles of ancient Greece and the markets of modern Mexico, a prayer that blends the Jewish and Catholic liturgies, a Mexican woman's reclamation through poetry of her own voice and erotic power. In its reach, audacity, and astonishing vitality, Gervitz's extraordinary life's work bears comparison to the achievements of HD, Lorine Niedecker, Ezra Pound, and Walt Whitman.
Praise For Migrations: Poem, 1976-2020…
"It is difficult to think of a poetic project like that of Gervitz. Ezra Pound's Cantos or Charles Olson's The Maximus Poems come to mind, but perhaps no other modern author has consistently devoted the totality of their work to one single volume, patiently rewritten throughout the years, losing and gaining verses, and constantly mutating. . . . The search for a language able to slide through different meanings in the same line [is] at the center of Gervitz's poetic project. . . Readers of Migrations find the trace of a life devoted to writing and rewriting—it is a mutating work, written with an ink that aspires to the flowing and dissolvent nature of running water." —Mauro G. Lazarovich, Harvard Review Online

"Migrations presents the unmistakable, majestic voice of Gloria Gervitz, one of the most powerful and original voices of contemporary Jewish Latin American literature, in all its fullness, and Mark Schafer's translation does it justice. Mystical, at times wrenching, it is a poem of ancestral as well as modern voices, a poem that should be read slowly as if reading a prayer." —Marjorie Agosín

"Gloria Gervitz's Migrations, co-written by death, co-written by eros, is one of the great poems of the twenty-first century. Mark Schafer, her extraordinary English-language translator, has managed to keep hold of this poem through all its bucking, its multiplying, its relentless champing at the bit. Gervitz is a wonder, true, but so is Schafer." —Forrest Gander
NYRB Poets, 9781681375700, 304pp.
Publication Date: November 2, 2021
About the Author
Gloria Gervitz (1943–2022) was a poet and translator born in Mexico City into an Eastern European Jewish immigrant family. She was awarded the Pablo Neruda Prize for Poetry in 2019. Her main body of work is Migraciones, a single poem that evolved organically over forty-four years. Gervitz translated works of poetry by Samuel Beckett, Kenneth Rexroth, Lorine Niedecker, Susan Howe, and Rita Dove into Spanish.

Mark Schafer is a literary translator, a visual artist, and a senior lecturer at the University of Massachusetts Boston, where he teaches Spanish. He has translated works by authors from around the Spanish-speaking world, including David Huerta, Belén Gopegui, Virgilio Piñera, and Alberto Ruy Sánchez. Schafer is a founding member of the Boston Area Literary Translators Group. He lives in Roxbury, Massachusetts, the traditional and unceded territory of the Massachusett and Wampanoag Peoples.