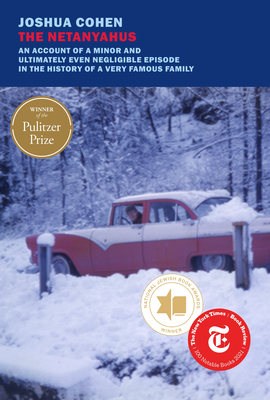 The Netanyahus
An Account of a Minor and Ultimately Even Negligible Episode in the History of a Very Famous Family
Paperback

* Individual store prices may vary.
Other Editions of This Title:
Digital Audiobook (11/29/2021)
Description

WINNER OF THE 2022 PULITZER PRIZE FOR FICTION

2021 NATIONAL JEWISH BOOK AWARD WINNER

A NEW YORK TIMES NOTABLE BOOK OF 2021

A WALL STREET JOURNAL BEST BOOK OF 2021

A KIRKUS BEST FICTION BOOK OF 2021

"Absorbing, delightful, hilarious, breathtaking and the best and most relevant novel I've read in what feels like forever."  —Taffy Brodesser-Akner, The New York Times Book Review

Corbin College, not quite upstate New York, winter 1959–1960: Ruben Blum, a Jewish historian—but not an historian of the Jews—is co-opted onto a hiring committee to review the application of an exiled Israeli scholar specializing in the Spanish Inquisition. When Benzion Netanyahu shows up for an interview, family unexpectedly in tow, Blum plays the reluctant host to guests who proceed to lay waste to his American complacencies. Mixing fiction with nonfiction, the campus novel with the lecture, The Netanyahus is a wildly inventive, genre-bending comedy of blending, identity, and politics that finds Joshua Cohen at the height of his powers.
Praise For The Netanyahus: An Account of a Minor and Ultimately Even Negligible Episode in the History of a Very Famous Family…
"A mordant, linguistically deft historical novel about the ambiguities of the Jewish-American experience, presenting ideas and disputes as volatile as its tightly-wound plot" — The Pulitzer Prize Citation, Winner of the 2022 Pulitzer Prize for Fiction

"Absorbing, delightful, hilarious, breathtaking and the best and most relevant novel I've read in what feels like forever." —Taffy Brodesser-Akner, The New York Times Book Review

"Riffing freely on a true story, this brilliant and hilarious new book takes a cozily familiar form, the campus novel, and turns it into a slyly oblique fable about history, identity and the conflicted heart of Jewishness, especially in America." —John Powers, Fresh Air

"With [The Netanyahus] Cohen proves himself not just America's most perceptive and imaginative Jewish novelist, but one of its best novelists full stop." —Sam Sacks, The Wall Street Journal

"With its tight time frame, loopy narrator, portrait of Jewish-American life against a semi-rural backdrop, and moments of cruel academic satire, The Netanyahus reads like an attempt, as delightful as it sounds, to cross-breed Roth's The Ghost Writer and Nabokov's Pale Fire." —Leo Robson, The Guardian

"With a blend of fiction and nonfiction, Joshua Cohen's dazzlingly smart campus comedy pursues lofty questions of history, religion and politics." —Shelf Awareness

"[The Netanyahus] is torrentially satisfying." —Jonny Diamond, Lit Hub

"Clever, funny, dark, deeply moving, full of references to everyone from Nabokov and the Marx Brothers to Jabotinsky and the late Harold Bloom, The Netanyahus is a joy to read." —David Herman, The Jewish Chronicle

"The Netanyahus. . . is a campus novel that is also a novel of ideas—a conjunction less common than one might expect. Luckily it's also very, very funny." —Len Gutkin, The Chronicle of Higher Education

"The Netanyahus, like Cohen's previous novels, is driven by the momentum of its prose. . . . This is a surprising novel, full of quirks and explosive moments." —Christopher Shrimpton, The Spectator

"No one writing in English today is more gifted than Joshua Cohen. Every page of The Netanyahus—an historical account of a man left out of history, a wickedly funny fable of the return of the repressed—crackles with Cohen's high style and joyride intelligence." —Nicole Krauss

"The Netanyahus is constructed with a brilliant comic grace that moves from the sly to the exuberant. Some scenes are funny beyond belief. But even when moments in the book are sharp or melancholy, they keep an undertone of witty and ironic observation. The vision in this book is deeply original, making clear what a superb writer Joshua Cohen is." —Colm Tóibín

"A domestic sitcom farce, a ferocious academic sendup. And also, in contrast to an entire generation of fastidious timidities (Doctorow, Mailer, et al.), a rousing lecture on Jewish history leading to Zionism. . . . The drive to quarrel with a character is only one of the delights of Cohen's shrewd, exuberant, exhilarating and merry novel." —Cynthia Ozick

"Cohen's writing is vibrant even when ruminating on esoteric details on Jewish identity theories. . . . This blistering portrait is great fun." —Publishers Weekly

"Cohen's new book is among his best: a fastidious and very funny book that is one of the most purely pleasurable works of fiction I've read in ages." —Jon Day, Financial Times

"Cohen has performed a literary miracle of sorts, transforming the shadowy, dour figure of Benzion Netanyahu into the protagonist of an uproariously funny book. In its skewering of the small-mindedness of academic culture, The Netanyahus conjures up the hilarity of David Lodge, and in its piercing gaze and over-the-top, transgressive moves, it evokes the late Philip Roth. . . . The reader is likely to explode in laughter." —David N. Myers, Los Angeles Review of Books

"Brilliant. . . [The Netanyahus] marries some madcap Rothian scene-making with a greater and uncomfortable plumbing of what it means, all these years later, to be Jewish in America." —Ross Barkan, The Baffler

"[In The Netanyahus] it is Bellow whose aura blinks out from Cohen's rich historical and philosophical digressions and the novel's mélange of acid comedy and earnest ruminations on race and campus politics." —Joshua Leifer, Dissent Magazine

"[The Netanyahus is] the most perfectly realized of [Joshua Cohen's] novels, it's the most heartfelt one, the most cleverly constructed. It's also a sardonic comedy—laughter in the dark." —Jan Wilm, The Believer

"The Netanyahus is brisk, brilliant, brazen; one reads it quickly, immersed in its language; its dexterous descriptive prowess, its observations on then-modern culture viewed with enlightened hindsight." —Greg Cwik, Brooklyn Rail
New York Review Books, 9781681376073, 248pp.
Publication Date: June 22, 2021
About the Author
Joshua Cohen was born in 1980 in Atlantic City. His books include the novels Moving Kings, Book of Numbers, Witz, A Heaven of Others, and Cadenza for the Schneidermann Violin Concerto; the short-fiction collection Four New Messages, and the nonfiction collection Attention: Dispatches from a Land of Distraction. Cohen was awarded Israel's 2013 Matanel Prize for Jewish Writers, and in 2017 was named one of Granta's Best Young American Novelists. He lives in New York City.