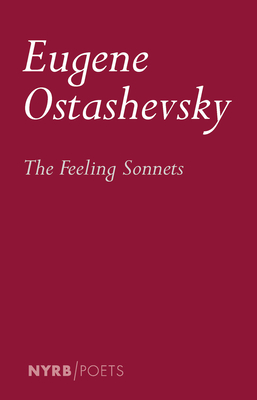 The Feeling Sonnets
Paperback

* Individual store prices may vary.
Description
Slyly funny, inventive, and virtuosic, this new collection from a Russian-American master challenges poetic convention and explores themes of alienhood, translation, and human emotion.

In Eugene Ostashevsky's The Feeling Sonnets—his fourth collection of poems— words, idioms, sentences, and poetic conventions are dislodged and defamiliarized in order to convey the experience of living in a land, and a language, apart. The book consists of four cycles of fourteen unrhymed, unmetered sonnets. The first cycle asks about the relationship between interpretation and emotion, whether "we feel the feelings that we call ours." The second cycle, mainly composed of "daughter sonnets," describes bringing up children in a foreign country and a foreign language. The third cycle, called "Die Schreibblockade," German for writer's block, talks about foreign-language processing of inherited historical trauma, in this case the siege of Leningrad from 1941 to 1944. The fourth cycle is about translation. The sonnets are followed by a short libretto, commissioned by the Italian composer Lucia Ronchetti, about Ravel's interaction with Paul Wittgenstein over the Piano Concerto for the Left Hand.
Praise For The Feeling Sonnets…
"Ostashevsky's immense and multilingual opus of philosophy, language, pun and the absurd is a performative and rollicking ride." —Jacqueline Saphra, The Poetry Review

"Energetic and allusive, humorous and multilingual, by turns aching and philosophical, these sonnets wheel down the page, full of wit and linguistic wonder, while Ostashevsky's phonemic and semantic play among words and sounds in English, Russian, German, and other languages suggests and reveals freighted connections between language and place, nation, (im-)migration, generations, historical memory, and translation." —Heather Green, Harriet Books, Poetry Foundation

"Feelings proliferate in The Feeling Sonnets, and first among them is the feeling that we have to ask what we mean by feeling. It is to feel his way toward an answer to that primary question that the brilliant poet Eugene Ostashevsky has written this collection of vivacious, witty, and anguished poems. As the poems unfold, language gets caught up in proliferative play. The poet flounders through fields of feeling, one felt word spilling out of another, one spelt word spelling another. Feeling moves from one cultural or linguistic context to another, doubling and redoubling the potential for meaning and the potency of meaning's prolific uncertainty and occasional absurdity. And extending through the linguistic microsystem of vowels and consonants that shift meanings from place and place (and even nation to nation) is the exquisite sensibility of a poet, erudite, humble, and closely watching over those he loves. This is an extraordinary and beautiful book." —Lyn Hejinian

"Eugene Ostashevsky is a multilingual language explorer. His Feeling Sonnets are an exhilarating and witty enquiry into the designs that language has on us as intellectual, domestic and historical beings. This is poetry as punning philosophy, both entertaining and deeply serious. This book is a tour de force, turning languages' spotlights onto speech itself." —Gwyneth Lewis

"This book is a timely reminder that our dying—but more importantly our living—at once prefigures and is prefigured by language. Here's to singing along." —Cai Draper, SPAM
NYRB Poets, 9781681377025, 112pp.
Publication Date: October 11, 2022
About the Author
Eugene Ostashevsky is a poet and translator who was born in Leningrad, USSR, grew up in New York, and currently lives in New York and Berlin. His poetry collection The Pirate Who Does Not Know the Value of Pi, published by NYRB Poets, discusses the pitfalls of pirate-parrot communication. Its German edition won the 2019 International Poetry Prize from the City of Muenster. An earlier collection, The Life and Opinions of DJ Spinoza, published by Ugly Duckling Presse, offers an ironic take on rationality. His  translation titles include OBERIU: An Anthology of Russian Absurdism, the first collection of writings by Alexander Vvedensky and friends in English.