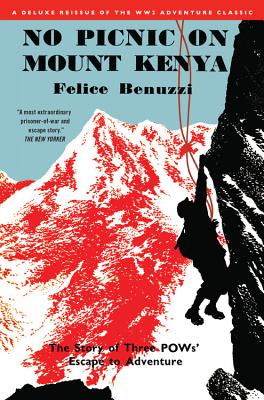 No Picnic on Mount Kenya (Paperback)
The Story of Three POWs' Escape to Adventure
MacLehose Press, 9781681440163, 320pp.
Publication Date: September 4, 2018
Other Editions of This Title:
Paperback (3/1/2005)
Paperback (6/1/2014)
* Individual store prices may vary.
Description
In the shadow of Mount Kenya, surrounded by the forests and creatures of the savannah, life drags interminably for the inmates of POW Camp 354, captured in Africa during World War II. Confined to an endless cycle of boredom and frustration, one prisoner realizes he can bear it no longer.
When the clouds covering Mount Kenya part one morning to reveal its towering peaks for the first time, Felice Benuzzi is transfixed. The tedium of camp life is broken by the beginnings of a sudden idea--an outrageous, dangerous, brilliant idea.
Not many people would break out of a POW camp and trek for days across perilous terrain before climbing the north face of Mount Kenya with improvised equipment, meager rations, and a picture of the mountain on a tin of beef as their most accurate guide. Fewer still would break back into the camp on their return.
This is the remarkable story of three such men--a powerful testament to the human spirit of rebellion and adventure--reissued in a deluxe edition featuring Benuzzi's own watercolor paintings of the expedition and a final chapter that has never before appeared in English.
About the Author
Felice Benuzzi was born in Vienna in 1910 and grew up in Trieste, doing his early mountaineering in the Julian Alps. He studied law at the University of Rome and represented Italy as an international swimmer in 1933-35. He served in the Italian Colonial Service in Abyssinia until his imprisonment in 1941, and wrote both the English and Italian versions of No Picnic on Mount Kenya during the last years of his captivity. Following the conclusion of the war he worked as a diplomat, including with the United Nations. He died in Rome in 1988.
Praise For No Picnic on Mount Kenya: The Story of Three POWs' Escape to Adventure…
"Benuzzi's sketches and his glorious writing and humor make this an incomparable tribute to camaraderie and daring."
—Jane Manaster, San Francisco Book Review


"Mr. Benuzzi's paradoxical mixture of pride and self-mocking humility is attractive: his courage is amazing; his story, dramatic."—The New York Times

"A most extraordinary prisoner-of-war and escape story."—The New Yorker

"More electrifying than anything a person with a nose for real adventure could hope to read."—Piero Melati, Repubblica

"A hymn to mountaineering and adventure."—Marco Valle, Il Secolo

"A first-rate humanistic account that should quite simply be considered a classic of Italian literature."—Pietro Spirito, Il Piccolo

"[No Picnic on Mount Kenya] crackles with the same dry humor as its title. It contains the prison-yard bartering and candlelight stitching that mark a classic jailbreak yarn; the encounters with wild beasts in Mount Kenya's forest belt are as gripping, and the descriptions of sparkling glaciers as awe-inspiring as any passage in the great exploration diaries of the early twentieth century."—The Economist

"There are dangerous adventures, and then there's the story of Felice Benuzzi and his fellow Italian soldiers escaping a British POW camp because, 'one had only to start taking risks again.' It's a strange and exciting story."—Men's Journal